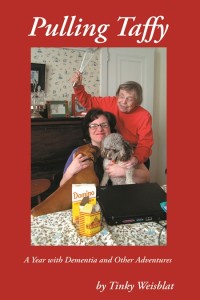 A self-effacing author pays respect to her mother who defied convention.
In 2011, author Tinky Weisblat began a one-year quest to journal her experiences caring for her 92-year old mother Jan (Taffy) Weisblat who was living with dementia. She includes photos and recipes throughout Pulling Taffy – A year with dementia and other adventures.
By the end of the year, both she and her mother conclude their respective journeys leaving the reader with a sense of loss after feeling a part of their family for the duration.
In 1945, Taffy, a Christian, married Abe Weisblat, a Jew, after their parents suggested they remain engaged for a year before entering a "mixed marriage." Their marriage lasted until Abe's passing–53 years.
Taffy was a strong-willed woman just over 5-feet tall who left a major impact on her son and daughter and primary caregiver, Tinky. College-educated, Taffy's independent spirit helped her work around the world with her husband.
Despite author Tinky's self-effacing humor, she is a woman of letters going on to receive several graduate degrees. Still, she enjoys singing and cooking. In fact, reader beware, Pulling Taffy can be fattening with tantalizing recipes like Ghost Cookies, Irish Cottage Soda Bread, and Spinach and Artichoke dip.
Tinky didn't expect to be a caregiver, initially. Like so many caregivers, she grew into a role, which wasn't easy at first. She discovers:
I began by writing about what I was losing. Somewhere along the line I started writing about what I was finding…a burden was transformed into a privilege.
With this discovery, Tinky and her mom overcame the challenges with periods of FUN—enjoying nature, cooking together, playing the piano and singing together, reciting poetry, and enjoying the company of visitors.
Tears of frustration turned into tears of tenderness.
Pulling Taffy is truly an enjoyable read, which made this reviewer smile a lot. Tinky's conversational style and self-effacing humor is a welcome counterweight to the strength of her late mother.