Our Dementia Diary: Irene, Alzheimer's and Me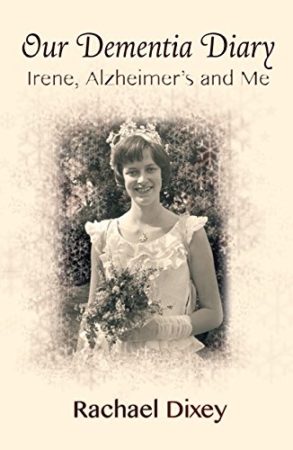 Rachael and Irene were supposed to live a long and happy life, retire and travel the world. But a thief called Alzheimer's visited in 2004 and began tearing apart the lives they had carefully built for a quarter century.
This is a remarkably honest story of the enduring love between two people coping with uncertainty and the eventual loneliness of losing a spouse.
The author, Rachael Dixey, professor at Leeds Beckett University copes by keeping a journal—a way to release her feelings. She ties these entries with "interpolations" to make sense of it all. She wonders if a more appropriate title might be Fifty Shades of Dementia.
Dixey manages to find strength amidst the tears to take care of herself and find the humor. She hires in-home caregivers for Irene while she works (for sanity). When Irene is hospitalized and then placed in a care home, she visits almost every day and soon realizes the toll it takes when Irene recognizes her and says, "I love you" and the next day, forgets and walks past her in the corridor.
During the nine-years, from Irene's diagnosis to her passing, Rachael writes of the full range of emotions—from the love she and Irene shared to missing Irene, feeling lonely as a singleton, dating (nothing lasts but gives her strength to be stronger for Irene), and even contemplating Irene's death. Through it all, she visits Irene regularly, cares for her, feeds her, and feels Irene in every room of their house.
She recounts with humor the folly of dealing with social services. Irene attends adult day services in a county that only covers healthcare and receives healthcare in a county that covers social services such as adult day care. After almost a year, they work it out where she feels assured of not losing their home. Meanwhile, she takes time off periodically. The time away gives her greater appreciation for what she and Irene had despite some funny (in hindsight) foibles during her travels.
She recounts the good times they had going on "epic walks," camping, exploring the mountains, trees, and sunsets. She misses those quiet mornings together. She struggles to remember the bad unusual behaviors for five years before Irene's diagnosis at age 57. Home movies help her see the beginnings of Irene's inexplicable behaviors. She's able to piece together those embarrassing outbursts when Irene would storm out of restaurants after finding something wrong with her meal. She recalls the desperate cries at home when Irene couldn't find a piece of clothing she had worn for several days in a row (likely because Rachael removed it for washing). And yet, Irene's heart-wrenching cry early on returns to her from time to time, "I don't know who I am anymore. Please help me."
Written by an author based in the UK gives us Americans a refreshing expression of care between partners. Her writing is characterized as informed humility. We gain greater awareness and knowledge of what it's like to live with Alzheimer's while feeling the angst and pain of losing her soulmate. Written by one of a gay couple gives us an endearing portrait of how love among LGBTs is no different than love among (dare I say, traditional?) male-female partners. Oftentimes, because of ongoing discrimination, the bond of their love seems stronger.
I'm glad she chose to write, Our Dementia Diary – Irene, Alzheimer's and Me and that her and Irene's story is being shared. The LGBT caregiver's voice is one that needs to be heard.