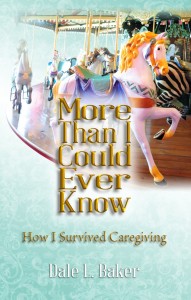 The Caregiver's Voice reviews a love story by Dale L. Baker.
Her book, More than I Could Ever Know – How I Survived Caregiving highlights the ups and downs that is the carousel ride of caregiving. She describes it as a caregiving survival manual.
Caregiving is intimate. It made me fall in love with my husband all over again…
Our private times together were coming to an end….
Baker's husband is diagnosed with cancer for the second time. There is no cure.
Feeling alone as many caregivers do, she is at a loss for the right resources to help her. "No one writes funny or lighthearted things about caregiving … the few books available were drab, written by people of the cloth with no hands on experience…."
It is regrettable when caregivers dive in without knowing the incredible number of resources available. Two bold titles proclaiming, Finding the JOY in Alzheimer's should have drawn Baker's attention while her father lived with Alzheimer's. Yet, her husband's episodes of chemo brain may not have translated to needing books featuring caregivers' stories about caring for people with dementia. 
Baker also uses the phrase "adult foster care," referring to residential care. This is the first time this reviewer has come across this phrase. After a hasty Google search yielded almost 20 million results, the flushed face of ignorance, soon yields to the humble realization that we're all learning from one another.
Like the rest of us who venture along the path of caregiving, Baker was slow to warm up to support group. After enough episodes of feeling powerless, she became desperate enough to try. (Post-publication update via email: she will be facilitating a caregiver support group.)
She also tried to use a nursing home and it didn't work out. Her lesson is a reminder that families cannot simply drop off their loved one while they make other plans. This reviewer tested one out in advance and when it didn't work, met with the administrator and director of nursing plus the caregiving staff to ensure the procedures already in place were being followed. The experience is much improved when families are involved, initially and remain involved.
More than I Could Ever Know offers several memorable highlights: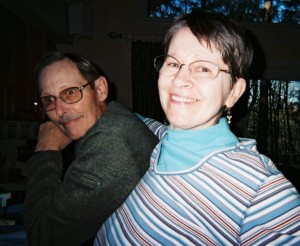 Just be with me. 
Sometimes we feel we must be doing for our loved ones when all they wish for is our presence.
Medicating the Caregiver
After suffering depression, Baker's body and mind responded in funny ways to the prescribed medications. This chapter recounts her almost ill-fated yet comedic (in hindsight, of course) attempt to navigate a vehicle emissions inspection. Can you say: caregiver dementia?
Not on MY Towel!
In this chapter, Baker emphasizes the need for caregivers to stand up for themselves if even in the smallest way.
The Widow's To Do List
Instead of waiting to start her list of To Dos after her husband died, he encouraged her to create the list so that they could as much of it together. Even though it took longer, he felt useful and she gained memories that went beyond his day-to-day cancer treatments and care.
Give Permission to Go
Baker discovered that had she given her husband permission to let go, perhaps he might not have suffered as long. When she assured him she would be fine, he was finally able to let go.
Truly a delightful and short read with 19 fast-paced chapters across 104 pages.
Be sure to review Chapter 19, where Baker summarizes the five key tips throughout More than I Could Ever Know, reminding us that caregiving is not a sprint but a marathon.