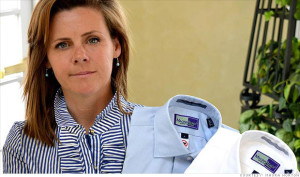 If necessity is the mother of invention, Maura Horton is the mother of Magna Ready stress-free dress shirts necessary for people with Parkinson's and other illnesses that make it hard to button a shirt.
Horton, a former children's clothing designer, stepped onto the clothing design field again, after her husband, a college football coach, discovered he couldn't button his shirt. (He didn't know it then but a short while later he would be diagnosed with Parkinson's at age 48.)
Meanwhile, she mobilized a team to create a stress-free dress shirt.
She found the answer with quality Honduran-made wrinkle free cotton button-down shirts with little magnets concealed behind each button within the fabric, which gives each shirt the appearance of a dress button-down shirt. (When asked by The Caregiver's Voice during a telephone interview, she explained she didn't favor Velcro due to the dexterity needed to position then squeeze each closure. She added that Velcro requires regular cleaning since it traps lint, easily.)
The Magna Ready shirts also feature magnetic sleeve closures.
What began as a shirt to help people with Parkinson's
is now helping people with arthritis, stroke, and other injuries.
Horton surprised The Caregiver's Voice Review with another group who orders Magna Ready shirts–children of people with Alzheimer's.
Why?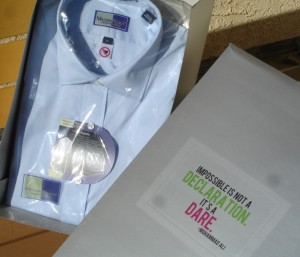 Because the shirts make dressing easier when a parent initially misaligns the buttons–simply pull apart and realign the magnets.
The Caregiver's Voice Review received an XL-sized Magna Ready shirt (shown here) in a large box with a gray gift box inside featuring an inspirational quote by Muhammad Ali: Impossible is not a Declaration. It's a Dare. Men's sizes range from Small to Double Extra Large (XXL).
The Caregiver's Voice Review found the Magna Ready shirt nicely packaged for gift giving and will be giving away this shirt at an upcoming event. (Click on the image to the right for more products.)
Horton just launched a woman's line featuring a more tapered cut available in two colors–white and blue stripe. These women's shirts will be available in Extra Small (XS) through Extra Large (XL) on her website in about a week.
Horton's solution to a potentially embarrassing problem proved to be a simple idea that now extends one's independence a while longer while preserving dignity.
If you have a pacemaker or other device such as an electronic brain stimulator, please first check with your doctor before wearing clothing with magnets.
For more about the shirt's features click on Magna Ready Shirt – How it works.