Conversation Cards – resource for engagement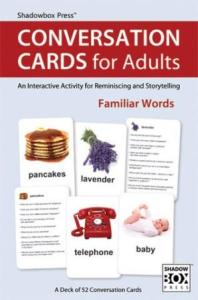 Shadowbox Press does it again. First their picture books that engage and comfort and now their oversized deck of 52 Conversation Cards.
As soon as the box arrived, I opened the Conversation Cards for Adults and began asking my husband questions.
After couples have been together for (many) years, we stop listening. Did I just admit this? These cards add a fresh dimension to our conversation–a refreshing way to listen closely. Imagine, even after 34 years! I felt like we were on a date, again; exploring and learning fresh details about one another.
Shadowbox Press created these with the idea of encouraging reminiscing and storytelling.
If you've ever experienced those uncomfortably long quiet times
when you feel like conversing, instead of sitting together, in silence;
these Conversation Cards are the answer.
There are nine questions in the back of each card—some closed-ended and others open-ended, facilitating discussion.
As a long-time member of High Desert Toastmasters club, I brought these cards along for our holiday party. We have a one- to two-minute exercise called Table Topics and these Conversation Cards worked nicely as we learned more about one another and our members' family and friends.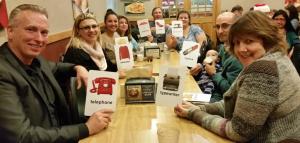 Truly FUN!
Children can use the questions on the backside of these cards to learn more about Grandma and Grandpa. Adults can take time to learn more about their parents.
Most importantly, anyone who can converse will benefit from these cards.
I referred to these cards while visiting a residential care home, where two new ladies were residing. I neglected to bring the cards but remembered some of the questions. As we hit that quiet moment, I talked about the cards, and began asking some questions. We learned a bit about one another among smiles and laughter. I promised to bring them next time… but my Toastmasters Club wants them, too!
Whether you're an Activity Director or Social Worker in an adult day care center, assisted living community, or even in a nursing home, I recommend having a set of these Conversation Cards on hand for simple ways to engage those who live with dementia such as Alzheimer's.
Also, if you are the VP of Education of one of the 14,650 Toastmaster's Clubs worldwide needing to freshen your Table Topics session, invest in a set of these for about $30.
Shadowbox Press's set of Conversation Cards is a simple yet slightly structured way to engage the people in your life through reminiscing and storytelling without those uncomfortable silent moments.