Lose something? Use Click 'n Dig Smart RF Item Finder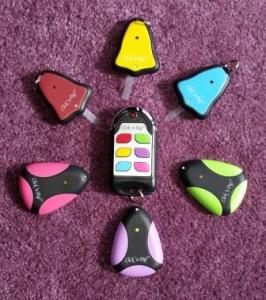 Guest Reviewer Eric M. Riddle
 A clever device and well made.
The Click 'n Dig! comes in a compact package featuring six RF Receivers (three key rings, three thin plates), one RF Transmitter, and one set of EXTRA batteries. Instructions are clearly printed on one sheet.
Suggested uses printed on the box of Click 'n Dig! include finding lost keys, pets, the TV remote, wallet, and even your cell phone.
The Caregiver's Voice gave us Click 'n Dig! to review and my wife and daughter joined me in testing the RF Receivers on our animals and a set of car keys.
We experienced mixed results. For example, we found the smaller receivers to be a bit clunky when used on a small dog like a Chihuahua and a cat.
On a larger dog, they'd work better. Then again, we'd be able to spot a larger animal without needing an RF receiver. We did find the device worked well on our small dog even though the sound startled her each time. Still, we were able to find her easily and the flashing light helped us locate her when she hid under the bed.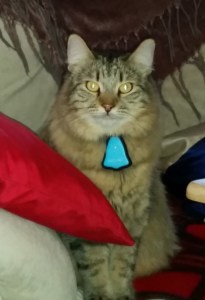 We didn't get far with the cat, however. The receiver initially bothered the cat until she calmed down. We located our cat easily on the first day. The second day, we couldn't locate her. We discovered the device was no longer working. When she took a drink from the water bowl, we learned why. The RF Receiver dipped into the bowl filled with water.
We recommend either making a smaller unit for small pets that are harder to locate or adding a rubber seal for water resistance.
Finally, we tested one receiver on a set of car keys. We were able to locate the keys as long as the they were in the same room. The range of the transmitter was limited and didn't work between the first and second floors of our home or from one end of our home to the other.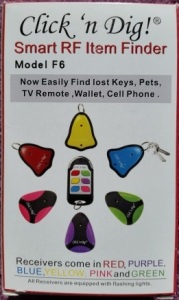 The unit works best either line of sight or within short distances through doors and walls.
Overall, we found the Click 'n Dig! to be a clever device and well made. We'd prefer the receivers to be smaller. Additionally, we wonder if a smartphone application might work better as a transmitter considering if we lost the transmitter, all would be for naught.
For more information on this product, click on link above, the image to the left or visit the Click 'nDig website. [Updated 11/21/2017 Link no longer available.]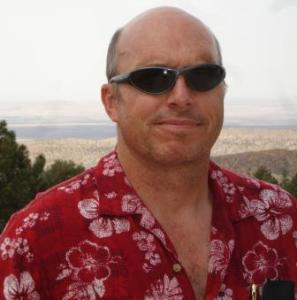 Eric M. Riddle has worked in customer service and sales. He understands, given the mental and temporal clutter in our lives, our concerns demand unique answers. Eric believes clutter is a reflection of life and now serves as a STUFFologist, helping people define the physical, mental, digital, temporal, and sensual cluttergories in their lives.
(TCV Ed. For our readers who are precise about punctuation, please note the single quote before the n in Click 'n Dig should be a single closing quote rather than an opening quote. As hard as we tried to make the change manually, it reverts to an opening single quote. It has something to do with how our CSS (Cascading Style Sheets) display.