Does the Clarity Phone Boost Volume?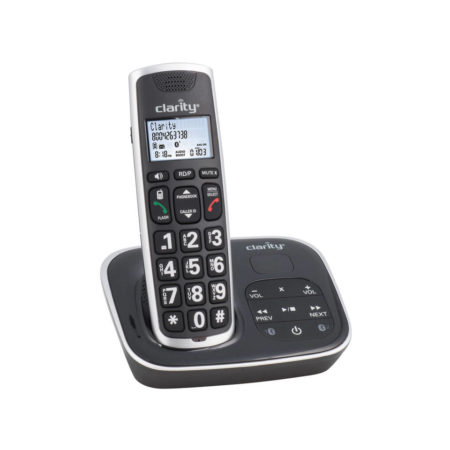 I was looking forward to review the Clarity phone, model BT914 because it is marketed as amplifying phone call volume. This model boasts a number of other features, too, like big buttons and Bluetooth connectivity. The big buttons are nice, but I just want to experience clearer-sounding phone calls.
Years earlier, when I'd call my father who was profoundly deaf, I'd become exhausted trying to have a meaningful conversation with him. I don't want to be like my father in this respect, but lately, I've been struggling to hear people.
We've migrated from a world of landlines to mobile and VOIP calls. The sound quality is iffy—sometimes, crystal clear and most often muffled and spotty. On top of this, people talk quickly and mumble more.
Conversations sometimes go like this:
"Blah-buh, blah blaaah, uh?" Or "–eh, uh— I –"
"Please repeat?"
[Inaudible broken sentences, repeated.]
"I can't hear enough of what you're saying to make sense of what you're trying to say."
"I can hear you clearly," the voice says.
"Well, I wish I could hear you, better."
Unfortunately, we can't talk long because struggling to make sense of every sentence takes a lot of energy! It's like being in another country where you only have rudimentary knowledge of the language. Besides, you could reply inappropriately and get into a heap o' trouble!
Is the Clarity Phone Compatible?
Before approving shipment of the phone, I asked the rep if it integrated with my current 3-pc Panasonic Model #KX-TGA470 Dect 6.0 wireless handsets. She assured me the Clarity BT914 was compatible. I thought, great, I can use this phone in my office and keep the other three handsets in the other rooms as they are.
Except, it wasn't compatible.
I'm persistent and found a work-around for those hard-to-hear calls. I leave the phone's base plugged into the electrical outlet, but leave it unplugged from the phone line; otherwise, the Clarity overrides my current system. When I'm having difficulty hearing a call, I'll plug the Clarity into the phone jack and use the handset. (I disconnect the Panasonic to avoid the screeching feedback between two phones too close together.)
Moderate Improvement of Sound Quality

I read somewhere that those who are hearing impaired, expend as much as half of their energy trying to hear. Perhaps this explains why I feel so exhausted after some phone calls. Enjoying conversation is one of the few pleasures we have. Even birds chirp in the morning and insects buzz all night.
When I read the following feature, "Patented Clarity Power™ technology clearly amplifies incoming sounds up to 40dB" I was optimistic.
Except the improvement is NOT consistent or enough. For one call, I noticed an improvement. For another, it was moderate. On a recent call, however, the volume was insufficient and the screeching sound so severe, I had to hang up. I don't understand the inexplicable whistling tone I hear during some calls. Besides, I don't wear a hearing aid. (It does no good for nerve deafness.) There are no other electronics to interfere with the signal. Dect 6.0 technology is supposed to reduce interference. I even tested Clarity in multiple locations.
As a comparison, I had my husband test it as well. He detected no notable difference; however, I could hear his voice better when he used the Clarity.
I hope that manufacturers like Clarity, a division of Plantronics, will do better at fulfilling their advertising promises such as "Clarity – Amplify Life™ – solutions that dramatically boost quality of life for older adults so they can live richer, more engaged lives." The reviews on other online platforms seem divided. Some love the Clarity and others didn't get what they expected.
Besides being able to hear allows people to live independently much longer. Additionally, studies report that hearing loss accelerates one's progress with dementia. It makes sense. If we can't hear, we tend not to socialize. If we don't keep our brains active through social interaction, our brains atrophy.
Will Try A Different Route to Hear Better
Given the modest results of this phone, I didn't bother connecting to my smartphone. Besides, my Plantronics earpiece that I've paired with my smartphone works wonders. It's just that my smartphone doesn't always have a clear signal in the rural area where I live and work. I may have to find a different route to hearing better. I'll try pairing my earpiece with the landline handset, first.