Boom ER – A Life Saver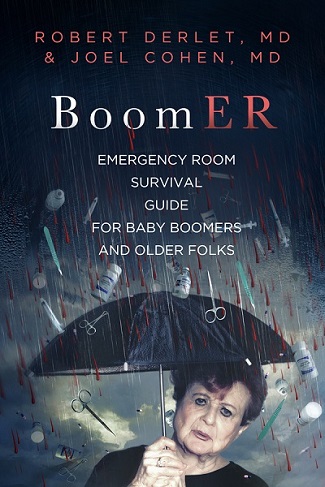 Few books come along that truly offer a life-saving insider's perspective. BoomER-Emergency Room Survival Guide for Baby Boomers and Older Folks by Robert W. Derlet, MD and Joel Cohen, MD, offers families and medical professionals, a 360-degree view of things to consider when needing emergency medical care.
As one who found herself faced with going to urgent care versus not being able to deliver a keynote address due to severe flu symptoms, I had a vested interest in this title.
From the patient's perspective of "I need care, NOW! And I want the whole works!" to the professional's perspective, "That patient has the flu. I'll handle this broken-arm-after-a-fall-and-patient-going-into-shock-from-severe-pain, first." From one concerned family's point of view, "We'll sue if you don't give him the complete work-up." to another family's position, "Why is this procedure necessary? Is this medication truly necessary? Can an MRI or CAT scan wait?"
Here are highlights from Boom ER.
What the DNR really means. Many of us have been looking at it all wrong.
Why getting the whole work-up and every possible treatment may not be a good idea.
Hospital-acquired infections – the risks and how to prevent them.
Priorities for teaching, community, and private hospitals in the U.S. and overseas.
Red flags – symptoms and signs to know about. Case examples illustrating how elders are often misdiagnosed and why.
Research studies often report results that don't give the entire picture. Often, studies are performed on healthy elders who don't represent the population of frail elders who will be taking the medications.
The importance of planning ahead.
The need for a polite yet assertive patient advocate who can help a severely time-limited ER doctor explain fully and disclose any conflict of interest before giving informed consent.
Boom ER leaves little out. Several times, I felt as if I was having a dialogue with the authors. For example, in the section describing how dangerous emergency rooms are because of long wait times, spread of infection, and difficulty understanding a rushed physician's treatment plan, patients need to speak up. Yet, I wonder how do we get patients or their advocates to feel confident about speaking and in doing so without alienating the medical staff. A few paragraphs later, Doctors Derlet and Cohen address this careful balance between the doctor and patient. There were a handful of instances like this throughout the book.
As helpful as Boom ER is, the formatting could be improved. Instead of nine sections plus an index, the authors could have divided the book into five major sections and chapters. For example, Section IV was almost half the book with 11 subsections (instead of chapters) that were hard to find across 166 pages. Allocating a separate back-matter section for the four appendices would be preferable. The authors could also reduce some of the redundancy and offer easier-to-locate internal references.
An excellent resource. Scan through the entire book and then focus on one area at a time. Don't try to read it in one sitting. Instead refer to it as needed.
A must-read for every hospital and urgent care administrator, doctor, triage nurse and skilled nursing home nurse director. A must-read by every family who wants to be prepared. We talk about emergency preparedness in the case of an earthquake, fire, or flood, but we forget about the potential for sudden illness requiring emergency care. Section VI (Appendix A) addresses questions and suggests researching in advance which hospital is best equipped to treat stroke victims or a person having a heart attack. The authors advise, if you're over 50 start researching now and make sure you have your plans in place.
Use the eBook to facilitate easier searching for topics of interest, while keeping a print copy on hand for reference.