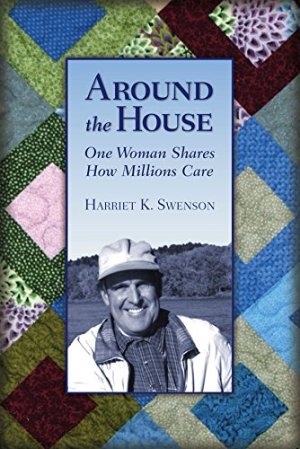 More than a caregiver's story…
An inspiring, enjoyable, and enlightening account of a New England widow who finds true love in the second half of life even as she becomes a caregiver, again.
Harriet K. Swenson's book, Around the House: One Woman Shares How Millions Care gives us hope that it's never too late to live a life worth living. Her second husband, long-time bachelor and the third generation in the family granite business felt the same.
At age 81, Harriet recounts the pieces of her life in Around the House. Included, are one-page essays—notes she took while enjoying love and companionship with her second husband, even as her role as caregiver grew.
She does not write much about her first husband, except to share the duties (sacrifice) of a "clergy wife" left to raise three teenagers after his passing.
Despite living much of her life in service of others and even struggling at times to find her identity, her writing paints a picture of a woman who has earned "sage hood" as she imparts insights while bringing hope of discovery and JOY in the second half of life.
In my mid- fifties, I appreciate the wisdom of my elders more than when I was younger. I lost my parents before age forty two; about the time, Harriett lost her first husband.
Harriet touches lightly on the topics that we caregivers know so well.
Her short one-page essays in the middle of the book give us space to fill in our own experiences while learning from hers, such as:
seeking help even though she sees herself as a hearty self-reliant New Englander.
weighing medical professionals' varying degrees of compassion.
taking trips with her husband despite his illness and his need for 24-hour oxygen.
living frugally
the challenges of downsizing their country farmhouse when she just can't manage it and her husband's care.
taking respite. Good for her!
Even though cancer was an intruder in both of her husbands' lives, she weaves in the wisdom of her 80-plus years in 300 easy-to-read pages. Fortunately, as she tells her story, her husband's dementia was mild, but the caregiver side of the story is worth reading this book.
Finally, she challenges the trivialized view of midlife and beyond as she explores spirituality in aging.
I enjoyed reading about her life a few pages at a time before bedtime each night. It's as if I've come to know her well.
Some life stories are worth telling and hers is among these. I can easily imagine gleaning more of life's wisdom by sitting at her side; however, I believe she has poured forth what she needed to and is living a well-deserved life of relaxation, in contemplation while quilting.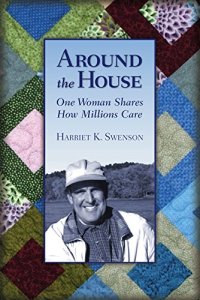 Click on book or link below.
Around the House will be available for purchase the second week of May 2015.