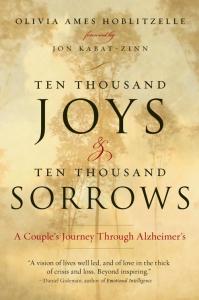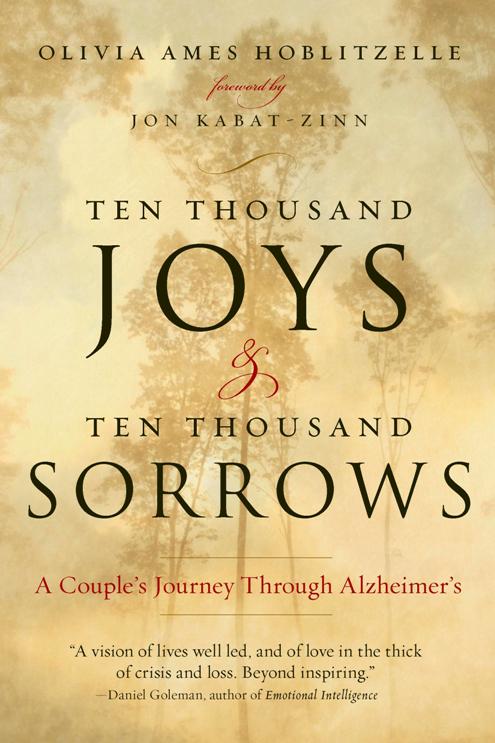 Olivia Ames Hoblitzelle writes beautiful story of compassion and selfless love for her beloved husband, Hob, in Ten Thousand Joys & Ten Thousand Sorrows—A Couple's Journey through Alzheimer's.
After three decades of marriage, they embark on a six-year journey consciously and lovingly through this final chapter of their relationship.
Their meditative practice enables the Hoblitzelles to accept and let go, ultimately living in the "here and now" because Hob can no longer remember the past or plan for the future. Speaking openly about his experience with the disease, one day Hob tells Olivia, "This mental loss thing is nature's way of saying, 'Stop, be quiet. Don't give me so much to chew on mentally.'"
All was not peace and acceptance in the Hoblitzelle household. Olivia wakes from wild dreams. She's caught in a frustrating "cul-de-sac of miscommunication" with a resistant Hob. To cope, she drives somewhere then shouts in the privacy of her car to release her pent-up feelings. Other times, instead of falling into her own pain, she takes a counter-intuitive measure. Approaching Hob, she asks for a hug–a loving gesture that softens the frustration.
At the end of her journey with Hob, Olivia writes, "He lived…with extraordinary courage, nobility, and humor."

About the road they took together, she adds, "As we were held in the fire of transformation, we were burned and burnished until the gold of love shone unobstructed between us."
Ten Thousand Joys… includes three appendices—Clear Light Guided Meditation for the Dying, Caring for a Loved One in Death, and Topics for Discussion.
In an interview, Olivia says, "My greatest wish is that the book continues to be helpful, and hopefully, our gift to others facing similar challenges."
I found her book to be immensely satisfying—taking time to read and digest it. Not many can or are willing to do what she did. For those who do, their journeys will be life transforming.
Brenda Avadian, MA
Alzheimer's / Dementia Caregiver, Expert Spokesperson, Coach, and Author
Editor, TheCaregiversVoice monthly Newsletter and The Caregiver's Voice Book Review