Caregiver's Guide – Safe at Home Video
How can we ensure the safety of our loved ones at home?
The Family Caregiver Alliance, with a grant from the Pat Summitt Foundation created a 19-minute video to help keep people with dementia healthy and safe at home.
As dementia progresses — particularly in the middle and later stages — people may withdraw, resist help, or not be able to express themselves adequately. They may find performing routine tasks difficult. Some may wander while others sit still too long.
Safe at Home – A Caregiver's Guide highlights: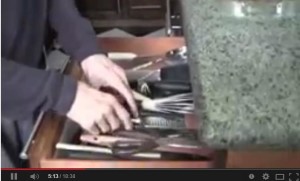 Dementia in the Middle and Advanced Stages
Common concerns–such as preventing falls, burns, overdosing, or poisoning
The ABC approach is applied to common concerns at home in the kitchen bathroom, bedroom, living room, hallways, and stairways.
General rules
It is easier to make modifications to your surroundings than to change your loved one's behavior.
Watch Safe at Home – A Caregiver's Guide by clicking on this link or the image below.

If you're a caregiver for one with dementia, take 19 minutes to watch the ABCs applied to potentially risky areas in a loved one's home. Understanding will help you to anticipate the risks and apply these easy-to-implement tips before an accident occurs.
The Family Caregiver Alliance (FCA) produced this video with a $25,000 grant from The Pat Summitt Foundation.