Caregiver for Wandering Stroke Survivor Aided by a Four-Legged Security System
Guest article by Lynette Wilson Juul*
I'll never forget my early experience as a private duty companion/caregiver for an adorably petite stroke survivor.
Although she had regained much of her physical functioning following the stroke, she was left with significant short-term memory loss. In fact, the entire time I knew her, she could never remember my name!
Caring for her was much like working with a person with dementia, so not surprisingly, the family's biggest concern was her safety. It just so happened that my diminutive new friend was a wily wanderer.
She resided in her daughter's completely renovated and accessible four-story Colonial home, but mostly stayed on the spacious first floor, which provided plenty of room for safe and supervised roaming.
Oddly, the only two bathrooms in the home were located upstairs, along with the bedrooms. This wasn't a problem for my friend, however, as she could travel up and down the three-tiered staircase very easily thanks to a high-quality stair-glide.
There was another safety mechanism in place; however, that proved to be even more valuable. It was the beloved family dog, a faithful friend and watch-keeper who accompanied my friend wherever she went. I learned to rely on him quite quickly.
During one of my first afternoons caring for her, I discovered just how similar people who've had a stroke are to those living with dementia.
Needing to use the upstairs bathroom, I left my friend unwatched on the main floor for what I thought was a very short time. Since her usual routine was to navigate around the spacious first floor, I assumed she was safe.
But when I heard the family dog barking, I immediately knew something was wrong. Even worse, I realized that the barking was coming from OUTSIDE the home.
I was horrified when I looked out the nearest window. Zipping along the home's long driveway was the woman and the family dog close behind.
"STOP!" I yelled, but she ignored me. The dog, on the other hand, turned his head astutely.
I bounded down the stairs and out the door at breakneck speed, luckily catching up with my speedy little friend before she made it to the driveway's end.
"Where are you going?" I asked, gasping for breath.
With her typically wide grin and confused expression, she shrugged and replied, "I dunno."
Looking down at the dog, his knowing eyes seemed to say it all. She needs to be watched at ALL times! Bathroom breaks included! I petted his head softly, and thanked him for helping prevent a possible calamity. The three of us returned safely home.
That afternoon, I learned a valuable lesson that I've carried with me to every caregiving assignment since then: Wandering is one of the biggest safety concerns when caring for a cognitively impaired loved one, whether s/he is a stroke survivor or living with dementia.
Because of the risks of wandering, many families opt for strong locks and an alarm system.
In the case of the woman I cared for, this also included an extremely wise and loyal four-legged companion!
As a result, this adorable stroke survivor was able to lead a high quality of life in her daughter's home for five additional years, during which time she and I shared many JOYFUL and memorable moments.
All under the watchful eye of the family dog!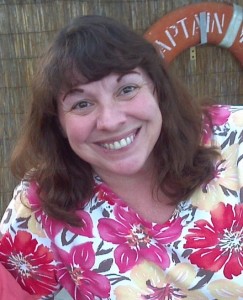 Lynette Wilson Juul, MS has experienced the joy of caregiving both professionally and personally. For twenty-five years, she assisted people with a variety of disabilities. During the past decade, she has narrowed her focus to aiding families who have a memory-impaired loved one living at home. This has included her father-in-law, Ole Juul, who lives with dementia in the Bay Area of California. Lynette and her son Peter were featured caregivers on The Caregiver's Voice. 
*Sadly, earlier last week, Lynette was involved in a fatal car accident and her wonderfully inspirational voice can only be heard/read in memory.