A Doctor writes – Treat Alzheimer's with GRACE
Guest article by David Bernstein, MD
Recently, Gert brought her husband, Jeb, to my office to manage his Alzheimer's disease.
She described Jeb before his illness as cooperative, intelligent, and pleasant. Jeb ran a respected and successful business. With the progression of Alzheimer's, Jeb became uncooperative, mean-spirited, and downright disrespectful. Gert was reluctant to go out in public due to Jeb's embarrassing remarks about others. Sometimes, he would tell people directly that they were fat or ugly; behavior he had never exhibited before.
Gert was visibly troubled by what was happening in her life and was becoming isolated.
She knew that going out in public involved maintaining the dignity of the man she cherished. Jeb needed supervision at home most of the time. Gert or her daughter was always present, even while a home health aide was there.  She was not able to spend any quality time with her daughter or her friends.
My main concern for caregiver Gert and her husband was to avoid her burnout and depression.
At the rate things were progressing, she was likely to join the 75% of caregivers who become depressed within the first year of caring for a loved one.
If you're a caregiver who's on the verge of burnout and depression, I suggest discussing the following with your physician:
A home visit by a dementia specialist to evaluate your and your loved one's situation and needs.
Increase in your loved one's physical activity to help burn off energy and control aberrant behavior.
Medication to suppress your loved one's disrespectful behavior.
Encourage caregiver respite without worrying about loved one's welfare when a home health aide is present.
Caregiver respite–engaging in activities you enjoy (to prevent burnout). Spending time in a caregiver-free discussion zone, focused on non-caregiving activities–such as time with an adult child or even shopping.
When caring for a loved one with a memory loss or dementia, it is important to think about GRACE. 
I often refer to the five letters of GRACE to organize how I approach a situation such as the one Gert and Jeb are facing:
G stands for Goals,
R is for Roots or DNA,
A stands for Attitude,
C is for Companionship, and
E stands for Environment.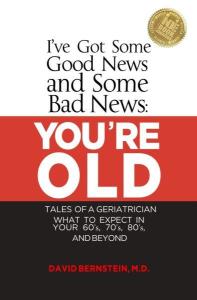 It is important to remember the five characteristics of GRACE when caring for a loved one with memory impairment or dementia. Whether it is in the early stages in a home environment or in the later stages, when the loved one resides in an assisted living facility or nursing home, each one needs a little GRACE.
David Bernstein, MD is a Board Certified Physician, Speaker, and Author. His compassion and ability to see the souls of his patients has compelled him to share his stories in his new book I've Got Some Good News and Some Bad News YOU'RE OLD Tales of a Geriatrician. He invites you to connect with him on Facebook/DavidBernsteinMD
(Dr. Bernstein's five tips were edited by The Caregiver's Voice to make them more generally applicable to caregivers in Gert's situation. TCV Ed.)