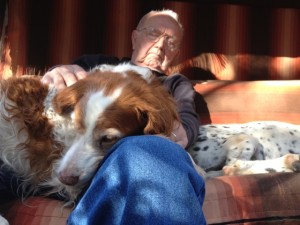 We've all witnessed the following scenario at some point in our lives: A beloved pet dies. A goldfish. Perhaps a hamster.
The desperate parent, trying to spare their child the pain of loss, rushes to the store and purchases a replacement.
It's identical! Or so the parent thinks. The child will NEVER know the difference. The parent will simply replace the fallen pet with the new one, and everyone will be happy, especially the child.
I recently witnessed this exact scene unfold; only instead of it being a child losing a goldfish or hamster, it was my father-in-law with dementia losing his beloved dog.
A few months ago, I wrote about how much joy a pet can bring to the life of someone with a cognitive impairment.
The tale was about my father-in-law, Ole (known to me in Danish as "Far"), and his fifteen-year-old Brittany spaniel, Amber, who he raised from a puppy. When his wife passed away last spring, Amber remained a constant presence in Ole's life. And faithfully, Ole's son, Mads, continued bringing the aging Amber to visit his father at his assisted living facility.
In fact, Amber soon became adored by many of the other residents, who looked forward to her regular visits.
Sadly, Amber recently passed. She was suffering from a number of doggie diseases, so the family decided to put her down.
This created a huge dilemma, however. How in the world would they tell Ole? He'd recently lost his wife and his long-time home. People with dementia need consistency, not constant change. Ole's family worried that losing Amber would devastate him.
And so they concocted the pet switcheroo! It sounded crazy at first, and no one was certain it would work. But it was sure worth a try!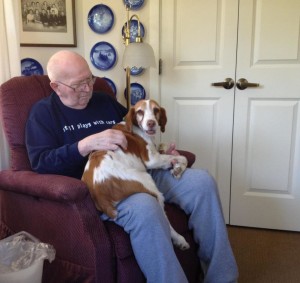 Another Brittany spaniel, in dire need of a home, was found. Her owner was moving into a place that wouldn't allow dogs. At the age of eleven, Rita would be the perfect companion for Ole!
But would replacing Amber with an imposter dog be a mistake? Surely, Ole would recognize the difference! Dementia or not, Amber had been his loyal friend for fifteen years!
I've been amazed by many things in my life, but the results of the Brittany spaniel Switcheroo have truly astounded me.
Rita, sometimes called "Amberita," took to the change instantly. A sweet, gentle dog, she loves to sit on Ole's lap and be petted. And Ole appears quite comfortable doing so!
Plus, the other residents are now brightened by Rita's regular visits!
No one really knows if Ole suspects the difference. He doesn't say anything, but sometimes his look seems a bit confused, as though he is sensing something has changed, but isn't quite sure what.
Rita doesn't sit in his lap exactly the way Amber did. But she is nonetheless content to snuggle there. Rita doesn't respond to his voice exactly as Amber did. Yet her tail happily wags when she hears him.
Most importantly, Rita brings Ole joy, just as Amber did. Her liver-colored spots may be arranged a bit differently, but her heart is just as large, with plenty of room in it for Ole.
After a visit with "Amberita," Ole brags to the other residents that Amber has just come to see him. "She's a good ole girl," he tells them, smiling.
The tried and true pet switcheroo absolutely eases the pain of a loss, whether it be it a goldfish, hamster, or even a Brittany Spaniel!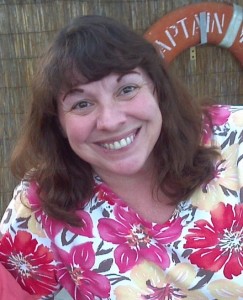 Lynette Wilson Juul, MS is both a family and professional caregiver. For twenty-five years, she assisted people with disabilities. During the last decade, she has helped families who have a memory impaired loved one, including her own father-in-law, Ole Juul, who has dementia. Although Lynette lives in New York with her teenage son, Peter, they often travel to the Bay Area of California, where Ole and Peter's Dad reside, to help with his care.
Lynette and her son Peter were featured caregivers on The Caregiver's Voice.