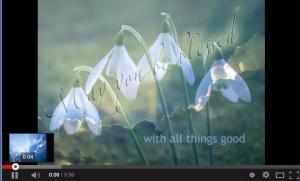 Kate Nowak created a five-minute video blessing in 2006 and shared it with 10 of her friends. Within a week, she received 1,000 eMails…since then, Kate writes on her website that millions have viewed it.
Have you?
I learned about it over the holidays.
If you haven't seen it, turn up your speakers, sit back, and be filled with five minutes of blessings.
To view it, click on: May You be Blessed Movie by Kate Nowak
Kate writes:

The Blessing Way philosophy is a simple one: Everyone is loved. Everyone is blessed. Everyone is a blessing.

… through the power and process of blessing, we become the change we wish to see…we become the blessing with which we are so richly blessed.

The Blessing Way is not affiliated with any religion or particular faith. Rather it honors all by believing that no one should be excluded because everyone and anyone can bless.
Piano Music: "Reflections in Time" Performed by David Wurst
Images provided through Shutterstock.com and BigStockPhoto.com
Writer Kate Nowak who lives in rural Texas. According to her website, "her days are spent peacefully writing a bit, pondering a lot, puttering in her garden, tending a small herd of Nubian goats, making cheese from their milk and counting her blessings, one by one by every single one." Kate's book, May You Be Blessed, is available through Simple Truths.
Thank you for sharing these blessings, Suzanne Richter.