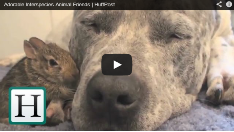 UPDATED November 20, 2014: New Link to video
Can we get along like these surprising interspecies opposites?
Maybe there's something we can learn from these interspecies friendships.
At least we can sit back for 2 minutes and SMILE.
ENJOY.
Please click on this link if the video does not display: Interspecies Animal Friendships
Thank you Les Hurdle for sharing the link to this video.
Brenda Avadian, MA
TheCaregiver'sVoice.com