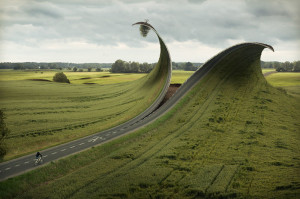 Sometimes we need to step away from caregiving for a FUN respite and inspiration found in these retouched photos by Berlin-based Swedish photographer and artist, Erik Johansson.
Erik is the kind of guy who asks, "What if?" and has the skills and the creativity to make his ideas come to life.
Check out 15 of his image ideas at Surreal Photos That Make You Look Twice.
It's not easy!
Take 5 minutes to watch how he creates the image to your left. It's the one with the play symbol below his 2nd image when the page opens using the link above. Or you may access it directly on YouTube at Cut & Fold – Behind the Scenes.
The hours spent and the skill to achieve this illusion is beyond most of our skill level (definitely beyond mine). Erik's attention to detail is remarkable!
Visit Erik's website and read his blog for more information about his images.
ENJOY!  Then spread the word. This young man's talent deserves to be shared. And he does commissioned projects.
Who knows, one day he could be artistically ripping up your street!