Last week Friday, U.S. News & World Report published a piece I wrote, entitled, Remembering Loved Ones During World Alzheimer's Month.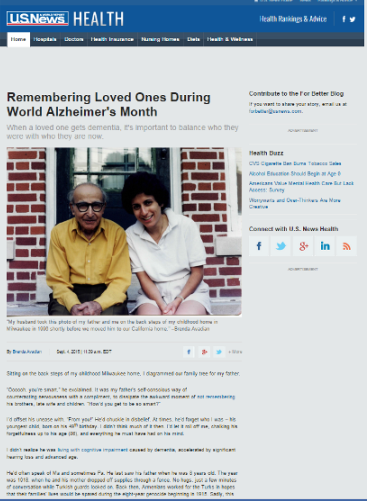 I'll add TWO POINTS to the article, which has resonated among readers and has gone a bit viral.
ONE – Include Dementia
Given the seeming overlap of various dementia diagnoses or mixed dementias as the Alzheimer's Association website lists it, it's important to be inclusive of more than just Alzheimer's, according to Australian, Kate Swaffer, who serves as the Director of Dementia Alliance International. Although, she lives with younger onset Alzheimer's disease, she advocates for a more inclusive use of the word dementia. Instead of calling it "Alzheimer's," call it World Dementia Month.
TWO – Remember Me
As caregivers, it is important to feel a sense of community while helping our loved ones feel the same. This means we need to remember the people and the moments that remind us of our purpose and (appreciated) role as caregivers. Otherwise, we risk losing the meaning of our work and spiral into depression.
Our loved ones with dementia can help if we help them.
As referenced in the U.S. News article, I'd sit on the back steps of my childhood Wisconsin home, diagramming our family members and their relationships on scrap sheets of paper set in an old clipboard.
"Your brothers – one lives in Illinois just south of here and the other lives in the Western U.S."
Self-conscious about his inability to remember his family, my father would pile on the praises, "Oooooh, you're so smart."
"Your wife and you had three children."
"Where is she?"
"We-aaall," I'd hesitate to say trying to gauge if he remembered. Sometimes, he'd forget that she died three years earlier and he'd relive (another round of) genuine heartbreak and grief. Determining he remembered, I added, "She died."
After my husband and I moved him across country into our home, I learned what some used to call therapeutic lying. When he'd ask, I'd reply, "Oh, she went shopping."
"Oh, good! She'll be home soon and then we can eat," he'd say like an excited child.
I'd feel guilty about lying (even therapeutically), so I learned another strategy — to deflect his question with memories.
"Do you remember when she'd go through all that work to pack us a picnic and you'd drive us to Bradford Beach on Sunday mornings?"
"You remember that?"
"Yeah. And you and I would walk up the curvy roadway to visit the lion statues."
Times like these with our loved ones lighten what grows into a heavy caregiving burden. We are able to connect with our loved ones and help them to remember. After all, none of us wants to be forgotten.
Read the article here:  Remembering Loved Ones During World Alzheimer's Month – U.S. News & World Report