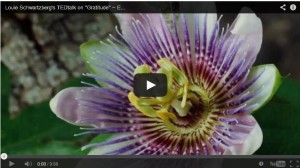 Award-winning cinematographer and innovator in time-lapse photography, Louie Schwartzberg delivers a TED talk that is deeply inspiring.
View his breathtaking photography then listen to a child share wisdom beyond her years. Halfway into Schwartzberg's 10-minute presentation listen carefully to the words of an elder:
This is not another day in our lives.
This is the one day given to us as a gift.
This brief video helps us to truly see and to be grateful for the bounties of nature and the unique people who inhabit our small planet.
In this rush-rush world 10 minutes could make all the difference in your life.
Click in the box below to start the video.  [YouTube video no longer available due to copyright claim by Louie Schwartzberg; however, you may still access his talk here: Louie Schwartzberg's TED talk on Nature. Beauty. Gratitude.
Louis Schwartzberg's career spans feature films, television shows, commercials, and documentaries. He won two Clio Awards, an Emmy nomination the Heartland Film Festival's Truly Moving Picture Award. Schwartzberg founded Moving Art to use the power of media to inspire and entertain. His new film "Wings of Life" will be released by Disneynature. Excerpted from TED Speaker Bio
Brenda Avadian, MA
Editor of TheCaregiversVoice.com, Expert Spokesperson, and Author