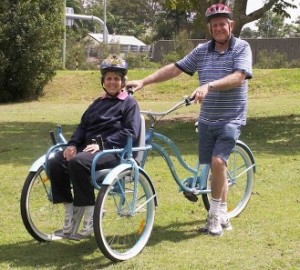 Ready for goose bumps?
What is Love?  Watch this 3.5-minute video.
Bill and Glad won't let Alzheimer's come between them. They're celebrating their 50th wedding anniversary (they met when they were only ages 8 and 9).
I count it a great privilege to care for this woman I've cared for all these years and continue to love.
Bill designed a "bike chair" so he could take Glad, his princess (tiara and all), on a ride along the beach.
A real Prince Charming from Australia …
If you can't view the video above, click to watch on YouTube: What is Love? Video – Bill won't let Glad's Alzheimer's come between them.
Also click to  watch Bill's response to his video above.
You'll laugh when you hear him read one person's response while watching this in the library.
Let their LOVE be your inspiration.