How to Hire Help Successfully through Craigslist
Guest Article by Sharona Hoffman, PhD
When I tell people that we hired a live-in aide for my father through Craigslist, they are surprised and skeptical.  But it's true, we had a successful experience with a young man who responded to our Craigslist ad.
My mother died suddenly in May of 2013 from pancreatic cancer.  She was hospitalized with severe vomiting and was gone twelve days later.  My 86-year-old father, who had a long history of cardiac problems, never contemplated the possibility that he would survive his beloved wife of 54 years. He was devastated and unprepared to live alone.
For a variety of reasons, it was not possible for Abba, as we called him in Hebrew, to move in with any of his four daughters. He told my sisters and me that he wanted to continue living at home, that he needed someone to live with him, and that it had to be a male because he was a rabbi and was concerned about modesty.  We contacted a local in-home care agency, but when he learned that the cost was $19.00 an hour, Abba declined this option.  He told us that at that price, he could not afford the full-time care that he needed for the rest of his life.
Instead, we posted an ad on Craigslist.  We were well aware of the risks of elder abuse, so we were nervous.  After reading several responses, we saw one that stood out.  Justin (not his real name) seemed to be articulate, mature, and had a compelling story as to why the position would be a good fit for him.  Now we had to figure out how to ensure that he was honest, responsible, and a good fit for Abba.
We invited him to Abba's home for an interview.  Much to our relief, we were impressed, and most importantly, Abba liked him a lot.  We ran a background check using an Internet service called Intelius and found that he had no criminal history, credit problems, or lawsuits filed against him.  We also called three work references that he provided.  We knew, of course, that the people he suggested we contact are likely to think highly of him, so we had to be wary.  As an experienced interviewer, I knew to delve into challenging areas such as: Tell me what Justin's weaknesses are, or Tell me two areas in which Justin can improve his performance.  Finally, we asked Justin to return for a second in-person interview, which went equally well.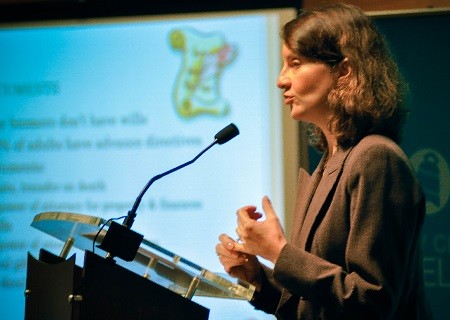 We hired Justin and never regretted it.  We had to draw up a contract and arrange for taxes to be withheld, and we obtained legal and tax advice from professionals.  One reason that we were at peace with hiring Justin is that one of my sisters lived ten minutes away from Abba's home and could make frequent unannounced visits to ensure that all was well.
Justin served Abba capably for over a year, until Abba got sicker and his needs grew considerably.  For the last four months of his life, we switched to an in-home care agency, which could provide aids that would be awake and by Abba's side at all times of the day and night.
When people ask me about hiring help through Craigslist, I tell them that in the right circumstances, this can be a sound and affordable option. Here is a short checklist that should help you proceed:
Interview the candidate in person more than once.
Conduct a background check using a reliable Internet service.
Call references and ask them detailed questions about the candidate's strengths and weaknesses.
Get professional advice regarding writing a contract and withholding taxes.
Have a trusted individual conduct unannounced visits to ensure that your loved one is well-cared-for and happy.
Sharona Hoffman is the Edgar A. Hahn Professor of Law, Professor of Bioethics, and Co-Director of the Law School's Law-Medicine Center at Case Western Reserve University.  The author of Aging with a Plan:  How a Little Thought Today Can Vastly Improve Your Tomorrow, she has lectured around the world.