Caregiver in New York Reminisces with Maria
Guest article by Lynette Wilson Juul
Seven years ago, I had the privilege of working with a colorful, charismatic woman named Maria.
Maria was eighty and living with dementia. She had lived in the Hudson Valley Region of New York State for many years, and maintained meaningful connections with people and places from her past.
My role as a caregiver was to provide companionship for Maria, as her daughter lived three hours away. Maria recently relocated to an assisted living facility (ALF) in her community, but was having great difficulty adjusting to her new surroundings. Although she was surrounded by familiar belongings, including family photo albums and heirlooms, Maria just couldn't connect to life in an ALF.
In particular, Maria missed going to the local venues she so adored. Since she was no longer able to drive independently, much of my time was spent traveling down Maria's Memory Lane. What a joyous journey!
Initially, our travels were short and simple.
Who knew buying groceries could be so much fun?
Exploring every aisle, it was as though Maria had discovered the store for the first time. Hugging a can of butternut squash, she exclaimed, "Oh! I LOVE this!" She also loved strawberries, over-sized muffins, and frozen pizza. "No bananas!" she proclaimed. "I HATE bananas!"
Going to lunch was equally fun.
We frequented diverse local eateries, trying all sorts of different fare. The biggest hit was a deli that served Cuban paninis. Hispanic in heritage, Maria's interest was piqued, "What is this panini?" Unsure, I offered to try one if she did. "Deal!" she declared, shaking my hand heartily. I can still see the delight on her face as she bit into that panini! That was Maria. Full of delight.
Our excursions began to expand.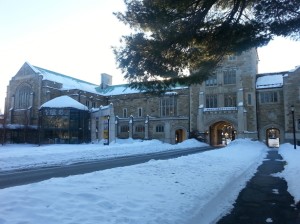 Maria was an extremely talented artist, and we became regular patrons at the Frances Loeb Art Museum at Vassar College, where she had been a student six decades earlier. How she relished riding around the scenic campus! "I don't know where they all are now," she said once, sighing deeply. I never learned who "they" were, but I imagined people from Maria's past.
One afternoon, Maria wanted to go to a "special place."
Only one hitch, she couldn't recall where or what the place was. No problem. Being quite familiar with the region, I was certain we would find our way. So we drove. And drove. "Go THIS way!" Maria directed. "No!" THAT way!" she demanded. Amazingly, although she knew every road and turn, she couldn't name our destination. Finally, we landed in Woodstock, NY. "This is IT!" Maria exclaimed with glee. "Now we'll find out who's who in the zoo!" I had no idea what Maria meant, but I figured that if we drove around the area, I might find out.
We ate lunch at a small café and then enjoyed a wonderful day reminiscing about Maria's life, ranging from a childhood in Puerto Rico to travels around the world. Maria's "Zoo" was indeed quite vast!
Another local outing was visiting Locust Grove, the historic home of Samuel Morse.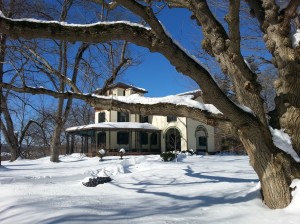 Maria had been a volunteer, and upon seeing the site again, she shed tears of joy. I was treated to a personalized tour of the grounds, during which we encountered an actual tour group. "I used to DO that!" Maria announced proudly. Later on, a woman in the museum gift shop recognized Maria, and the two embraced warmly.
The highlight of our time together, however, was an unforgettable evening at the Bardavon Theatre in Poughkeepsie, NY. Maria's daughter asked that I escort her mother to a Flamenco show there. Maria was beyond thrilled. During the entire performance, she stood and swayed to the music, clapping her hands and smiling. I even wondered if she might climb on stage with the dancers! Clearly, Maria was immersed in a beloved part of her past.
Shortly afterwards, Maria's dementia symptoms began to accelerate. Her daughter decided to move her mother closer to her own home where she could access local care. We lost touch until recently, when I contacted her to seek permission to write about her unforgettable mother.
I learned a lot about caregiving from the marvelous Maria. The way she radiated when connecting with past memories not yet stolen by her devastating disease was an absolute joy to behold.
As a caregiver, I now make sure that everyone I care for has the opportunity to connect with their past whenever they can.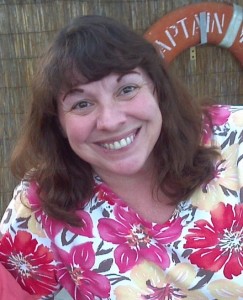 Lynette Wilson Juul, MS is both a family and professional caregiver. For twenty-five years, she assisted people with disabilities. During the last decade, she has helped families who have a memory impaired loved one, including her own father-in-law, Ole Juul, who has dementia. Although Lynette lives in New York with her teenage son, Peter, they often travel to the Bay Area of California, where Ole and Peter's Dad reside, to help with his care.
Lynette and her son Peter were featured caregivers on The Caregiver's Voice.