Caregiver Claire Abel writes about her mother's 105th birthday

Amazingly, Caregiver of the Month, Claire Abel, has been caring for her mother, Anne Beversluis for 18 years!
And what a history Anne has!
Born in 1909, Anne's father John Leskowits insisted she go to work to help support the family after she completed the eighth grade. Despite wanting to go to school to become a teacher, Anne went to work at Paterson Silk Mills in New Jersey for Heller and Hart Hatband Company. What did this early teenager do? Her daughter, Claire, writes, "She worked as a 'winder' which meant she wound silk thread to be made into men's hat bands."
Although, it wasn't all work and no play in the Leskowits household.
Anne loved to dance and her father played German music every weekend with his band in the local dance halls, according to Claire.
At twenty-four, Anne married John Beversluis in New York City and they had three children–a son and two daughters. Claire was the middle child. Anne stayed home to raise her children. Her marriage lasted sixty years, and during their last year, Anne cared for John at home until his passing at age 87.
She lived alone for two years until her son-in-law, Claire's husband Lyle, invited her to live with them in Oceanside, California. She moved from New Jersey and began a new life with Maltese puppies and assorted birds. Her curious and outgoing nature helped her form new friends in her adopted community and through her involvement in the church.
Her mind remained sharp as her eyes and ears were failing. Despite this, Claire writes, "She walked up 14 steps everyday to her bedroom on the second floor until she was 103."
Today, Claire and her husband Lyle are able to keep Anne home because of help from two caregivers, Loy and Angie. These two caregivers have become part of the family due to their "gentleness, kindness, respect, and loving care that they give our Mom, known to them as 'Mama' and 'Miss Anne'," writes Claire.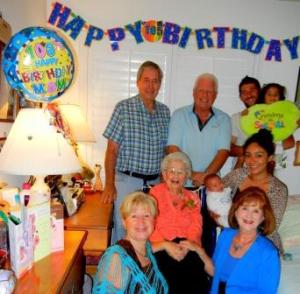 Claire adds, "I think Mom's secret for long life is that she was happily married for sixty years, she lived a simple life, and she was always content with what she had. I can't ever remember her asking for anything! Mom's faith in God is unwavering. She often wonders "why God has let me live so long." She may never know the reason but she knows He is in control and she continues to give Him all the glory. I think that at age 105, Anne's work here on earth is not yet complete. But until the day that He calls her home, her testimony will continue to be 'Morning by morning new mercies I see; All I have needed Thy hand hath provided, Great Is Thy Faithfulness, Lord Unto Me'."
Four generations of Anne's family came together to celebrate with an early Thanksgiving turkey dinner and a birthday cake with one "105" candle. Good heavens! Can you imagine Anne having to blow out 105 candles?

What a testament to a life well-lived.
Thank YOU, Claire and your hubby for your inspiring care and love for Anne for the past eighteen years!
Claire Abel, her family, and her mom have made caregiving fun over the years. Read these related articles.