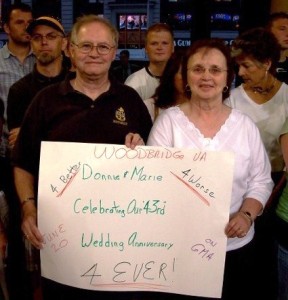 Grieving the loss of his beloved wife of fifty years, Caregiver of the Month Don Mc Cormick and former Navy sailor was finding life hard to bear. He found few reasons to live after losing his wife last year to Lewy body dementia. 
One day, I was heartened to read an email he sent in reply to How the first half ends, my opening letter in the June edition of The Caregiver's Voice Newsletter. He writes (slightly edited and formatted):
Brenda,

I could not find a place to comment on the year in perspective [referring to the newsletter].

I have to say after the 7 years of caregiving and watching my Marie suffer and failing, I was very stressed over the years and did not take care of myself.

After losing my wife in September of 2014, I took to eating while stressed to the point that I gained weight until I reached 284.8 pounds. Then in December of 2014, my son gave me a Fitbit for Christmas. In January of 2015, I was still in grief and disbelief that God would take my angel. In February, my daughter and her husband tried to ease my grief by taking me on a cruise with them. It helped for a while; but when I returned home to the empty house, I began feeling so lonely that I slowly reached a point that I just did not care.

I knew my Marie would not want me to be this way.

In late March, I joined a dating site. A lot of phonies approached me. I had just about given up when I met a lady who lived 30 miles from me. We made a date to have coffee and immediately hit it off.

This lady, Rosemarie, is very special. She immediately made me feel wanted again and to have a purpose in life. So, now after 10 months since my loss, Rosemarie has moved in with me and we will be married on July 6th, my 74th birthday.

My advice to anyone that is grieving is do not sit around. Stay surrounded by friends and family. Do things that you like to do and keep active. It's not easy but find someone special to help you. It can save your life.

Thanks for listening [reading].

Don Mc
Don adds the following:
Brenda, You have my permission to publish what I said along with the picture I'm sending. If it helps just one person it's worth it. I met Rosemarie from a dating service and had been writing to her for about 3 weeks when we met. About 5 days later, I proposed to her. With Marie [first wife], I had been writing for about a month. I knew her face to face for 71 hours when I proposed to her. I feel blessed God has sent me Rosemarie. She is wonderful and treats me great.  Don
CONGRATULATIONS, Don and Rosemarie McCormick on the start of your new lives together! Don, given your track record with Marie as you write above, you and Rosemarie deserve to ENJOY a long and healthy future.
There is hope for all of us after loss. It takes time and as Don found, finding someone special who cares may just save us from spiraling into hopelessness.
Sign up for The Caregiver's Voice Newsletter. Be sure to click on the link in the confirmation email. You won't want to miss an issue.