Easing the transition from home to assisted living with a special dog

Guest post by Lynette Wilson Juul
Perhaps the most difficult part of my father-in-law's (Ole Juul) recent move to an assisted living facility (ALF) was that he had to leave his beloved dog, Amber, behind.
While his son and grandson (Mads and Peter Juul) continued to care for Amber at Ole's long-time home, both the dog and my father-in-law clearly missed each other's company, and were both very confused about the change.
You see, Amber is an older dog. I don't know if dogs get dementia in the same way people do, but my personal experiences with aging canines lead me to believe that they do.
And the most difficult thing for anyone diagnosed with dementia is change.
The separation of Amber and Ole seemed to be easier for Amber. At least she was still in her familiar surroundings, and had two people around her that she knew and trusted.
As for Ole, he was in a completely different environment filled with unfamiliar faces trying to help him adjust to a new way of life.
I was lucky enough to be present during one of Ole's first days in his new residence, and what I witnessed was a joy to behold.
The ALF just happened to be the home of a small Chihuahua named Kiki. She was a rescue dog the facility took in that adapted well to a new life of interacting with elderly and disabled residents and nurturing caregivers. Given Kiki's chubbiness, I would say she had adapted a bit too well.
Upon Ole's arrival at the ALF, Mads and his family made a point of explaining how close Ole had been with his beloved dog at home, Amber.
In an attempt to ease  a potentially devastating separation, the staff members of the ALF, came up with the idea of introducing Kiki and Ole.
Upon entering Ole's room, Kiki immediately went to his chair and climbed up on his lap. I had the feeling she had been down this road before, and was quite familiar with her role.
Ole, who had been cooperating with all aspects of the move in spite of his tremendous confusion, was initially surprised at the appearance of the tiny canine, but quickly brightened up at her instant demonstration of affection. It was almost as though Kiki sensed that this new resident needed her companionship.
Since the move, Ole had been able to see his beloved dog Amber many times. The ALF allows Ole's son to bring Amber on regular visits, but because she is old, it is often easier for Mads to bring his father to visit her at home.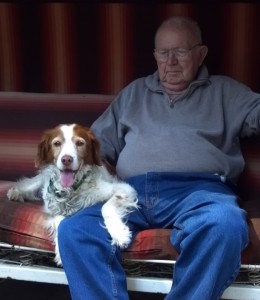 Their reunions are always magical.
Ole always seeks out the swing in his backyard, where he can see the beautiful flowers he and his late wife, Ann, planted over their years in the home.
Once seated in the swing, Amber always seeks out Ole's lap… as though there had never been a separation at all. Before long, the two of them are sound asleep; completely content in each other's loving companionship.
There are many articles that have been published about the how animals are used to help people with dementia including seals. Elise Worthington reports on the use of robotic seals to comfort nursing home residents with dementia.
For this caregiver, there is nothing more beautiful than seeing an old man who is afflicted with the debilitating disease of dementia reunited with his long-time canine companion.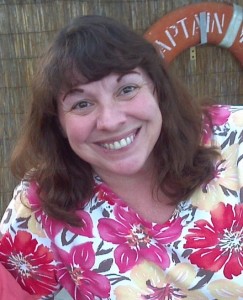 Lynette Wilson Juul, MS  is both a family and professional caregiver.  For twenty-five years, she assisted people with disabilities. During the last decade, she has helped families who have a memory impaired loved one, including her own father-in-law, Ole Juul, who has dementia.  Although Lynette lives in New York with her teenage son, Peter, they often travel to the Bay Area of California, where Ole and Peter's Dad reside, to help with his care.
Lynette and her son Peter were featured on The Caregiver's Voice.