A day in the life of a caregiver who works full-time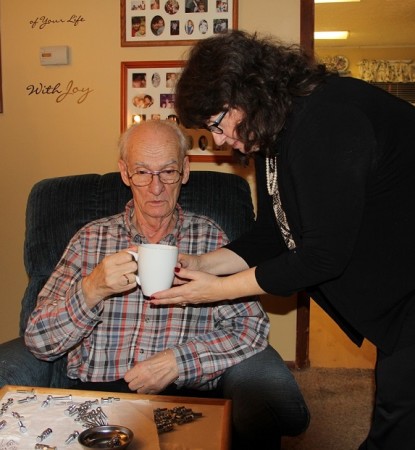 Last month, Minnesota-based caregiver, Sheri Zschocher was featured in a U.S. News & World Report article about caregivers blogging for balance.
A caregiver since 2008 after her husband was diagnosed with younger onset Alzheimer's, she remains busy juggling full-time employment and caregiving.
Having cared for my father at home, I know first-hand the day-to-day toll of combining caregiving and full-time work. I tried to justify a request of a busy caregiver with a note about how frazzled my day had been after following Plan B. Hoping for empathy from someone who shows boundless compassion, I wrote, "Tomorrow will be a LONG day—6am start to a full workday then a 2-hour drive at 5 down to Culver City (south of Los Angeles) for a meeting. Home by 11pm."
Within the hour I received the following draft (published as written by a frazzled caregiver).
One Caregiver's Daily Schedule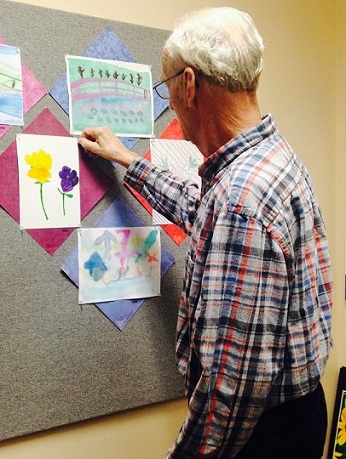 You are so very busy, me too. Here was my day.
4:30 am wake up drink coffee write blog with cat/cats on lap

5:30 am begin to think about what to wear to work

5:45 am wake up Bob (and "Al"), put his robe on him, get him into bathroom, get him to his living room chair, get his coffee, turn on his massage pillow for his back.

6:00 I start getting me ready for work while Bob's meds kick in

6:18 get bob to bedroom to help him dress then take him to bathroom to help him shave and brush teeth while running back and forth to bedroom finishing self

Out the door at 7:00am tell bob which car door to get in

7:15 am drop bob at day care

7:30am I arrive at work

7:30am- 4:30 pm manage a community of 196 apartments and balance maximum occupancy with daily crises.

5:00pm pick up bob at day care tell him which door to get in

5:30 make dinner

6:00pm give Bob night meds

7:00pm get Bob changed for bed

7:30 pm Bob in bed

Get up and do it all over again LOL

Oh the things we do!
My jaw dropped. Her schedule clearly illustrates the day-to-day grind of caregiving and work. My schedule is stressful enough producing an abundance of cortisol, but when someone depends on you 24/7, you have to step up.
I called her to request permission to publish her draft schedule. By reading one's experience, you may be inspired and help others. She agreed.
Sheri Zschocher works full time to provide for her and her husband and the rest of the time she cares for him. She's been doing this for 7 years.
Adult Day Services are a Big Help
Her community offers conveniently located and scheduled adult day services. She takes advantage of their services during the weekdays in order to work full time. She's secure in knowing her husband is well-cared for and engaged in purposeful activities at the Augustana Open Circle Adult Day Center.
As I thought more about her schedule, I wondered if she were paid the same salary to stay at home to care for Bob (and "Al"), would she? (Sheri refers to her husband Bob as "Al" for Alzheimer's.) She writes:
If my income were the same, I could give better personal care and find better ways of engaging Bob in things. But the flip side is that at the adult day center, he fits in and is involved in his way. I am not sure I could provide him the same stimulation. For instance, the choir he is in is very important to him. The choir visits other senior buildings to sing. He is very proud of his participation.

I can't really say that I would or wouldn't. The constant burden of a caregiver's heart, is trying to know what type of care is best, for all three of us.
I was curious if she had changed her mind a couple days later.
The other issue for me is that I crave conversation, discussion with depth that I have come to rely on my co-workers for. Caregiving for Robert full time might heighten my feelings of isolation creating a less patient me. When you look at a 24-hour day and he's at "work" for 9.5 hours that still leaves 14.5 hours he's with me. He needs my help and attention as he gets up 4 or 5 times during the night. I think this still qualifies as full time.
Footnote… literally!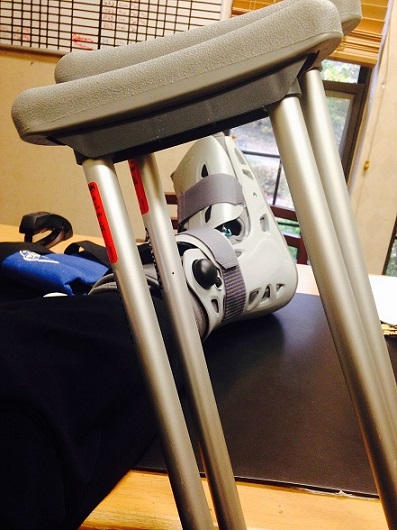 The story doesn't end here. The day before Sheri Zschocher's feature in U.S. News & World Report, she lost her balance on a makeshift step and broke her foot.
The stress of caregiving is real. And it's important to take a respite. We never know what life will hand us. And if all this wasn't enough, her mom died, suddenly. She had to fly to Texas with broken foot.
If her story inspires you to take better care of yourself starting with more caregiver respites, sharing her experiences will have been worthwhile. LIFE happens and we have to scramble with Plan B. Fortunately, one of Sheri's daughters is nearby and able to help Mom and Dad while juggling her own full-time work.