Standing in long lines and waffles … hmmm, what do they have in common?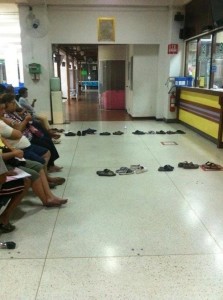 I was stumbling through StumbleUpon when I came upon these Life Hacks — creative shortcuts that make life easier.
Two, were just too much fun not to share with you.
You know how you get umpteen pieces of advice as things to do while waiting in line? "Read a magazine." "Meet someone new." Nah, scratch that. We live in a virtual world now. "Catch up with your friends on Facebook, Tweet, …"
Well, how about this? (Click on image on the right to see larger.)
What a smart idea. Why didn't I think of that? A great idea while standing in line at the Social Security Office.
And when you know you'll be waiting in a long line, how about starting the day right with "homemade" waffles the way you like them?
Grab your favorite flavor–cinnamon roll with cream cheese? Pop a few rounds of dough on the waffle iron. Wahlah! Fresh "homemade" waffles ready to go!
For 9 other Life Hacks, click to visit Cheezburger's page on StumbleUpon and if you can't access SU then visit the source here: 9 Things That Will Change and Improve Your Life Forever