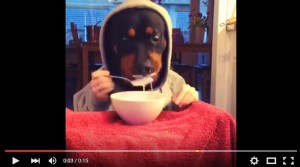 Sometimes, LIFE's a mess for caregivers and it helps to just sit back and LAUGH… especially, when it's someone else's mess!
This is JUST too cute to pass up.
Caregiver, you deserve a RESPITE… take 30 seconds to watch this short video twice.
I'll bet you'll be smiling, too!
You may even want to share it with someone who lost his/her smile.
If the image doesn't display, please click on Human Dog Eating to view on YouTube.
Thank YOU, Monique Stevens, for bringing this to may attention by sharing on your Facebook page.