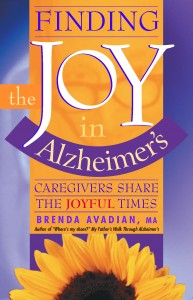 Caregivers share funny stories with mothers in Finding the JOY in Alzheimer's: Caregivers share the JOYFUL times
Except for the first, the mothers featured in these stories were living with dementia.
"What's the name of that disease where you forget … ?"
Diane Blake's mother asked her about Alzheimer's well before she was diagnosed with the disease.

"I've got rocks in my head!"
One rock from Loraine Yates' mom's rock collection was found in her bed. As it rolled about near her head, she exclaimed, "Boy oh boy! I think I've got rocks in my head."

Amazing Vision
Debbie Center's mom couldn't read the large letters on a liter bottle of Pepsi but she could read the small-print calorie information on the nutritional label on the other side. "Oh yes, says here it has 100 calories and 0 grams of fat."

Damn, you're handsome!"
Micah Leslie's mom couldn't figure out who that man was coming down the stairs in a shirt and tie. She asked, "Are you my husband?" "Are you my boyfriend?" He confessed, "I get my good looks from my mom." She grinned, "You're my boy…I love you."

Whose Prosthesis is This Anyway? An embarrassing encounter during breakfast when Gil Lozano's mom pulls out her breast prosthesis from her purse, lays it on the table saying, "Eso no es mio" ("That is not mine"), while the server tries to remain composed and take their order.
Your mother will not be here forever, but the memories you share will carry you throughout your life.