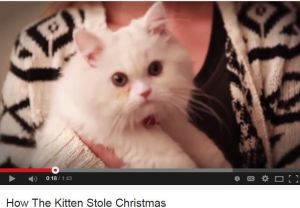 Really? That innocent face couldn't steal Christmas!
Watch this video as you listen to the poem with a delightful twist.
And remember, whether you're naughty or nice… thankfully, there's someone who will forgive you.
If the play button does not work below please click on the link below to view.

http://mashable.com/2014/12/15/kitten-grinch/
Have YOUR FRIENDS been naughty or nice?  Please share this with them before it's too late!  😉
And forgive them with a free subscription to The Caregiver's Voice Monthly Newsletter.
Next issue arrives in inboxes worldwide on January 1, 2015
For more information: What's behind the 12 Days of Christmas?