CAUTION: This is a FUNNY VIDEO that will have you shedding tears of laughter from more than your eyes!
Caregiver, take a 7-minute respite and watch this funny scene from Whose Line Is It Anyway – ABC Family with Host Drew Carey. OH, be sure to use the bathroom, first if you haven't in a while.
You deserve a respite and who better to provide one than Ryan, Colin, and Wayne whose talents hit the stratosphere with the unpredictable antics of guest, Richard Simmons. Whatever you think of Richard, this will have you ROTFL!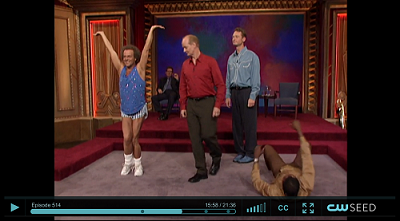 Host Drew Carey sets the stage with Living Scenery (no props). "On a luxury cruise liner, a couple makes the most of the day with sunbathing, watersports, and entertainment."
Richard Simmons volunteers, "I'll be all the props for these men!" and soon the scene heads south and gets funnier and FUNNIER. A bit risqué if you're sensitive to suggestive humor. Otherwise, you'll be teary-eyed and smiling for some time. After all, it did air originally on "ABC Family" – it can't be too over-the-top, can it?  😉
It'll take two steps and two short commercials to view a legal version of this funny skit. Stick with me here. 
Click on the image to open the video on the CW network, which now carries the show, Whose Line Is It Anyway? If you have a slow connection like I do, give it time to load. If nothing appears when you hover over the video box, then copy and paste the url in another browser. After the short commercial, the show will begin. Hover over the show until the lower time bar displays and click on the first dot at about midway or 11 minutes and 45 seconds. Watch one more commercial (the price we pay to view something for "free") and then sit back and enjoy. [You could try this link to view the Simmons segment directly, but it doesn't work in all areas.]
Again, be sure you've used the bathroom before you begin watching!