Sheri Zschocher began blogging in 2008 to cope with caring for her husband who was diagnosed with Alzheimer's. As a caregiver, she has found a sense of humor with humility. When caregivers began writing to her about how her blog had inspired them, she was genuinely surprised.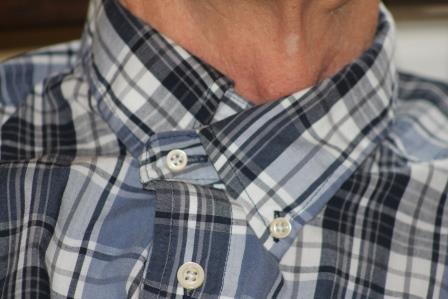 Juggling a full-time job and caregiving, she blogs short snippets under what has become known as "Living with Bob and Al."
Sheri writes this blog in the third person. She finds this narrative approach enables her to view her situation from a distance – how she copes with Al's influence over her husband, Bob. ("Al" is Alzheimer's.)
Recently, U.S. News & World Report featured Sheri's funny story, "The Battle of the Button" in Blogging: a Powerful Outlet for Caregivers.
You will laugh as you read how, despite Sheri's OCD-like preoccupation with Bob's button, "Al" manages to win the Battle. Just look at how "Al" buttoned Bob's shirt!
Click on the U.S. News text link above or the image and then scroll down for some FUN with Sheri and Al's Battle of Bob's Button.
What funny experiences have you had? Please leave your reply, below to bring a smile to a caregiver's face.

Be sure to visit Sheri Zschocher's blog for continuing updates on the adventures of Living in the Shadow of Alzheimer's – Living with Bob and "Al."