Caregiver "Angel Elaine" is behind Norman McNamara's worldwide advocacy efforts.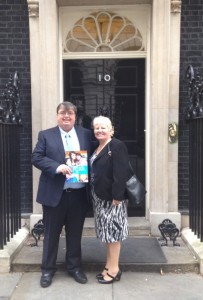 After her husband, affectionately called Norrms, was diagnosed with dementia at age 50 and later with Lewy body disease, she's been on a roller coaster of caring interspersed with travel and appearances. One night she's comforting a screaming 56-year old having a nightmare; another day, she's seated beside her husband at 10 Downing Street with England's Prime Minister.
Eternal optimist, Norrms ("One day we'll find a cure to dementia.") is leading the charge from Torquay, South Devon in the U.K. with his beloved Elaine by his side.
One can make a BIG difference, because dementia awareness is rippling around the world.
What is it like living with dementia?
Norrms writes about his terrifying experiences. Many of them happen at night when he's lost, confused, and thrashing about due to what he calls, "night terrors." Sometimes they happen during the day, coming on so sudden to ruin a wonderful moment.
So there I sat, across from Elaine, in a cafe in Weston Super mare having a latté without a care in the world, when, suddenly, I noticed the lift [elevator] door opening just across from us. The very same one we had used earlier after parking the car on the second floor. My heart raced, my jaw dropped and I squeezed Elaine's hand until she pulled it away from me whilst shouting OUCH!!

I couldn't speak, I couldn't move, I just stared and stared in front of me as if I was possessed!! Never taking my eyes off what I was witnessing!! I tried to speak, but nothing came out, for there right in front of my very own eyes WAS ME!!!! YES! You read that right; it was ME, MYSELF, [and] I!! Walking out of the lift and walking right past me/us/ err, you know what I mean!!
What is it like living with someone who has dementia?
This second question is best answered by his partner in life—Elaine Mc Namara whose story was featured two years ago by United Carers. Click on the image below to watch this 4-minute video, which says a lot more than written words can describe.
Click to access the United Carers video feature of Elaine Mc Namara.
Norrms adds to his experience, seeing himself:
I sat, for what seemed an age, Elaine holding on to both my hands as I shook and kept my head turned to the place I last saw him/me, straining my eyes. Looking for him/me for a long as I could, but, just like that, he had gone!

I sat there, my whole body shuddering and shaking; I kept saying, "It was me! It was me!" Over and over again, until it became so loud, I noticed everyone was looking at us, and, as embarrassment won the day, I quietened [sic] down, until I just sat there, staring in disbelief at Elaine.

Elaine said once again that she caught sight of who I was looking at and he looked nothing like me, but I was not convinced, I saw what I saw.
Angel Elaine endures it all, keeping by Norrms' side and her support is what keeps him going as he impacts today's nursing students who will be our caregivers. Nursing student, Maddy, writes:
I was one of the Nursing students as your speech at Plymouth Uni[versity] today … thank you for what you and your wife do. It's so incredibly valuable and inspirational.

… it must have been horrid for you to hear about the negative aspects of care that … happen on the wards. Try not to worry, [we] new generation of [n]urses are coming, and thanks to you and your work, we will always provide the best possible individual care to each and every one of our patients.

I wish you and your wife all the best for the future. Keep going as you are and challenging perceptions towards people with dementia.
Raising dementia awareness around the world.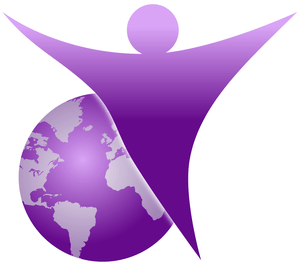 The Alzheimer's Disease International organization had even featured the Purple Angel logo upon its site. Norman (Norrms) Mc Namara, Founder of the Purple Angel, writes:
The Purple Angel is here as a guardian over those living with dementia (as well as their families and friends), and is helping to raise awareness of dementia around the world. The Purple Angel is the symbol of hope, and it has been adopted around the world by people who care about dementia.
Norrms sums up what Angel Elaine means to him. Fortunately, Elaine can still learn how her husband feels. Not all loved ones can express themselves as Norrms does. To caregivers everywhere, know that as challenging as your your loved ones may be, they likely feel the same as Norrms does about Angel Elaine.
Thank you Elaine
The Angels knew what they were doing,
The day that you were born.
Every light went on in the world,
On that wonderful morn.
Through your life you have brought
Love and laughter, which so many sought;
Unending care, and always for others,
A wonderful wife and fantastic mother.
The world was blessed when you were born.
I will always be grateful, all my love, Norrm.
Click for more information about the Purple Angel organization. [UPDATE 8/13/2017: While operational, this link no longer houses the Purple Angel Organization. Please now visit: https://www.purpleangel-global.com/]
Norrms and Elaine meet Leslie Williams, a Member of Australia's Parliament, who traveled to the UK on a fact-finding mission about dementia-friendly communities.  Devon's (UK) local paper, Herald Express [UPDATE 8/13/2017: Link no longer available for this article; however other articles available by searching http://www.devonlive.com/]