Your SUPPORT of The Caregiver's Voice…
helps us to provide family caregivers for people with dementia and
the professionals who serve them,
with a variety of caregiver resources, including –
The Caregiver's Voice VIDEO Channel
The Caregiver's Voice REVIEW of Books and Products
The Caregiver's Voice also provides coaching for caregivers.
When a caregiver needs help, sometimes, all they need is a question answered or knowing someone has their back. Although, we ask for a contribution, most sessions are FREE.
SUPPORT The Caregiver's Voice
Your funds go directly to helping families.
Whether it's free coaching or sending resources to help family caregivers, we are a low-budget operation and draw NO salary. (Income is derived from keynote speeches, article writing, and book sales.) Despite being a for-profit entity, we direct 100% of your hard-earned dollars and gifts to families who are trying to make sense of caregiving and living with dementia. Imagine a non-profit doing this with your contributions!
Since 2010, we've been publishing The Caregiver's Voice Monthly Newsletter a monthly companion to TheCaregiversVoice.com.
WHO visits TheCaregiversVoice.com?

Visitors to The Caregiver's Voice are family caregivers and college-educated professionals. Most are visitors from the United States with the 2nd most visitors from the EU (including the UK). 😉
During each of the past four years, our traffic has grown by 24%. In 2015, TheCaregiversVoice.com had 14,500,000 hits, 1,100,000 page views, and 308,000 visits.
SPONSORSHIP opportunities are easy.

The Caregiver's Voice TOP Banner – 640 x 135px
See the WEB SPECIAL at the top of every page at TheCaregiversVoice.com?
How about placing your custom-designed linkable banner at the TOP of each page?
Content Marketing Continues to Remain Strong!
Submit a guest post or we can write one for you. Click on the link to send us an email. Pricing varies with demand. Use our Guest Blogger Guidelines to guide you when submitting your article.
The Caregiver's Voice Monthly Newsletter
Your 50-word message with linkable anchor text and an image or logo will be featured between one of the major sections of the newsletter for three months.
The Caregiver's Voice monthly newsletter began publishing on the in April 2010 on the first of every month. We don't believe in a shotgun approach and continually trim our list of subscribers to those who remain active. Therefore, your message reaches a highly targeted and organically grown list of professional and family caregivers with a high "open rate" of 27% with an 8% click-through – engagement at twice the industry average.
Click link to check out archived issues of The Caregiver's Voice Newsletter
 The Caregiver's Voice
has been serving family and professional caregivers
since 1998.
For More Information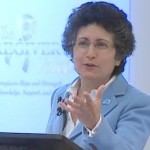 For more information about sponsorships and support, please contact Brenda Avadian, directly.
Brenda Avadian
President
TheCaregiversVoice.com