Caregiver Speaker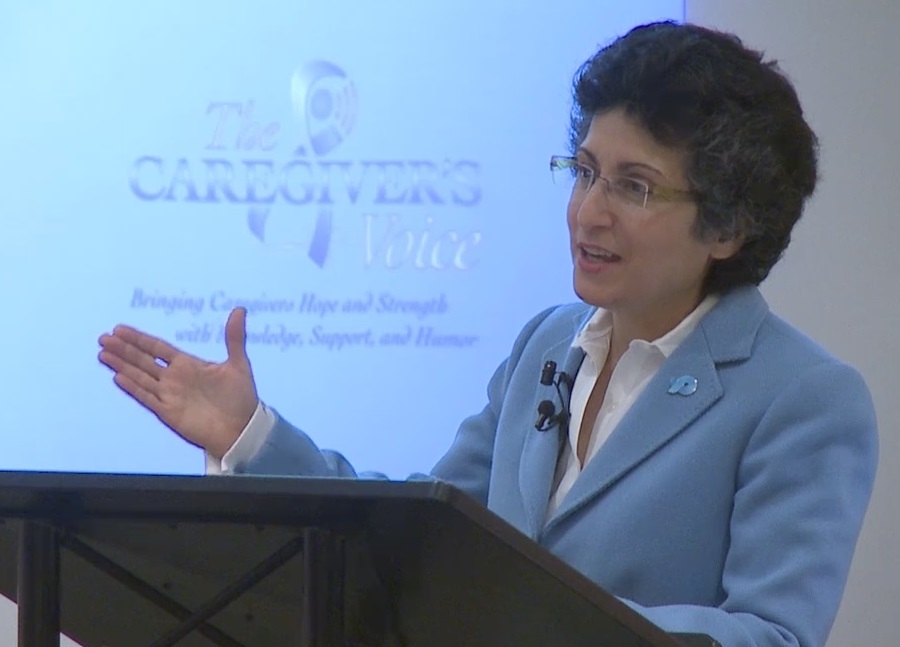 Brenda Avadian, MA, offers a compelling first-hand account of caring for a loved one with dementia.
A caregiver for her late father who lived with Alzheimer's, Brenda advocates using the continuum of care services including
in-home care,
adult day services,
support groups,
geriatric assessment,
elder law,
residential, assisted, and skilled nursing care, and
hospice.
I received a wealth of information from Brenda! I have learned about compassion and letting go in a more intense and helpful way! Thank you for all your information and helpful hints.


—Patricia Cone  Caregiver for husband who lives with Alzheimer's & Parkinson's
Alta, Iowa
Brenda Avadian's speaking engagements and seminars enlighten with humor; enabling families to more confidently navigate through a maze of choices.
"If we don't LAUGH, we'll cry," say caregivers.
Brenda is so entertaining and so "right on!"
Now, I have something to help ME through my journey with my husband.

—Sharyn Hunnicutt  Caregviver for Husband
Covina, California
It was a pleasure working with Brenda Avadian. She is a true professional. Her commitment to provide a seminar that is useful to a broad range of attendees is amazing.

Her ability to weave into her presentation, area resources that assist individuals through the difficult and stressful situations was very useful. It was a day filled with humor and empathy. I look forward to working with her again next year.

—Linda Schmidt  Bell Tower Residence
Merrill, WI
A professional speaker since 1980 and a mentor, coach, teacher, and university professor, Brenda has the unique ability to reach her audiences in a compelling and lasting manner.
You not only tell your story but also have a special gift of making your experiences translate into helpful advice to the audience.

—Sharon Roberts  Gerontologist  Lake County Health Department & Former Caregiver
Waukegan, IL
You gave such an outstanding and inspiring presentation. People felt very, very positively about the event, the information, and your personal story of your journey.

You are a gifted and compelling speaker and author and I appreciate your willingness to be a part of our very successful event.

—Jody Dunn Regional Director,  Santa Clarita Adult Day Health Care Center
& Family Care Partnership   (A Collaborative led by Partners in Care Foundation)
Can I Survive as a Caregiver?
By the way, is it too much to ask for a Sprinkle of JOY?
Family caregivers for people with dementia caused by Alzheimer's, Lewy bodies, and vascular, feel a greater challenge when their loved ones can no longer communicate meaningfully. Keynote for family members and the professionals who help them.
Click on Can I Survive as a Caregiver?
Conference Coordinators
Consider one of these CAREGIVING sessions as a value-added offering for your conference attendees. Interactive sessions for family and professional caregivers.
…others need to keep hearing your story, which painted a very visual picture. You are a gifted storyteller. Priceless!
—Deanna Jackson Certified Pedorthist Caregiver for her Mother
California
LIVING with Dementia 
What's it like being diagnosed with dementia?
What's it like for the family of the one diagnosed?
Overcome stigmas with greater awareness.
Helping family members, friends, community members, and professionals focus on what's important.
Continuum of Care Options



Which care options are appropriate for your family?
With a little bit of advance planning, event coordinators can invite local resource representatives to join this session. An ideal promotional opportunity for event sponsors.
Support Group – Guest Facilitator



Brenda Avadian loves getting to know your attendees' pressing issues while serving as a caregiver support group guest facilitator. Family members and professionals welcome.

More Information about The Caregiver's Voice Presentations
Keynotes typically range from 45 – 75 minutes.
Caregiving sessions for Families and Professionals are flexibly scheduled from 50 minutes to 2.5 hour sessions and are eligible for CMEs and CEUs.
Want to do something DIFFERENT?
Brenda Avadian also enjoys creating a FUN and inclusive environment as an experienced Emcee and Moderator. Sometimes, it's enjoyable to take a step back and help others shine.

Contact us with your Requests for Corporate Keynotes, FUNdraisers, Awareness Campaigns, Recognition/Awards events, Grand Openings, Educational Conferences, Retreats, and more.