Caregiver Speaker & Caregiver Workshops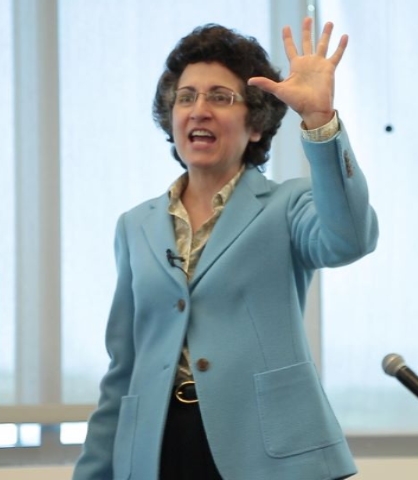 Brenda Avadian, MA, offers a compelling first-hand account of caring for a loved one with dementia. As a former family caregiver, Brenda advocates using the continuum of care services such as support groups, in-home care, adult day care, geriatric assessment, elder law, residential, assisted, and nursing care, plus more.
It was a pleasure getting to know and working with Brenda Avadian. She is a true professional. Her commitment to provide a seminar that is useful and pertinent to a broad range of attendees is amazing.


Her ability to weave into the context of her presentation area resources that assist individuals through the difficult and stressful situations was very useful. It was a day filled with humor and empathy. I look forward to working with her again next year.

—Linda Schmidt  Bell Tower Residence  Merrill, WI
Brenda Avadian's speaking engagements and seminars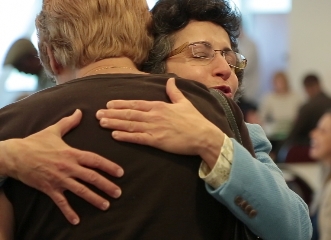 enlighten with humor; enabling families to more confidently navigate through a maze of choices.
"If we don't LAUGH, we'll cry," say caregivers.
You gave such an outstanding and inspiring presentation. People felt very, very positively about the event, the information they took away–and of course, your personal story of your journey.

You are a gifted and compelling speaker and author and I appreciate your willingness to be a part of our very successful event.

—Jody Dunn, Regional Director,  Santa Clarita Adult Day Health Care Center
& Family Care Partnership   (A Collaborative led by Partners in Care Foundation)
A professional speaker since 1980 and a mentor, coach, teacher, and university professor, Brenda has the unique ability to reach her audiences in a compelling and lasting manner.
Your presentation at UW [University of Wisconsin-Parkside] was great. You not only tell your story but have a special gift of making your experiences translate into helpful advice to the audience.

—Sharon Roberts, Gerontologist  Lake County Health Department, Waukegan, IL
(also a former caregiver)
CAREGIVING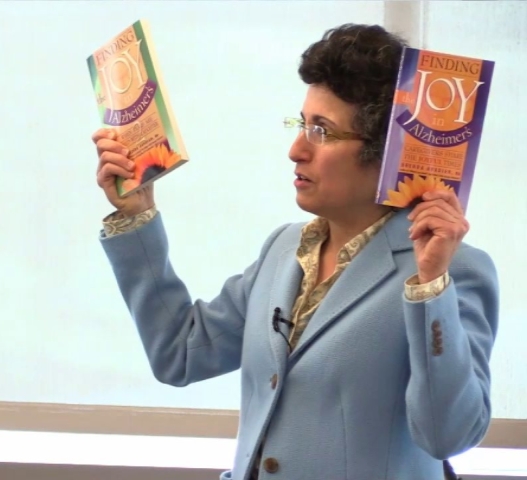 1. Can I Survive as a Caregiver? By the way, is it too much to ask for a Sprinkle of JOY?
For family caregivers of adults with dementia caused by Alzheimer's, stroke, Lewy body, and the professionals who help them.
For more information click on Can I Survive as a Caregiver?
Heartwarming, humorous, and poignantly real.

—Mary C. Fridley, RN, BSN, BC
Nurse Educator & Columnist, Gero-Resources, Annapolis, MD
2. LIFE with Alzheimer's: Finding the JOY in Caregiving
Tailored to caregivers for adults with dementia and the professionals who help them. Interactive.
Very powerful speaker, real story, real experience, battle. Struggle in her life. Empowering not only caregivers but also professionals who work with elders.

—A Professional
[I plan to] to pass along this information to the caregivers and physicians I have contact with. Caregivers who are at their wit's end [will benefit most]. They will learn how to identify the joys in the darkness and begin to cherish time with their loved ones again.

—Michael Perrone, Sales Rep, Johnson & Johnson, Milwaukee, WI
3. Continuum of Care: Your Options
State of the Art interactive session on care options.
4. Touched by the Light of My Father's Walk through Alzheimer's
An inspirational 15 – 45 minute presentation to help attendees return to their hearts–from where their gifts will help them heal while walking down the road of dementia. For audiences providing end-of-life palliative care and beyond.
COMMUNICATING
5. Rx for Communicating with your Doctor
6. Rx for Communicating with your Patient
Patients and doctors will communicate more openly, clearly, and meaningfully, resulting in Reduced Misdiagnoses, Increased Patient-Doctor Satisfaction, Greater Adherence to Treatment, & Reduced Risk of Fatalities. For more information click on Rx for Communicating with your Doctor/Patient.
Both Rx for Communicating sessions include the bonus Low-Tech, Hybrid, and High-Tech Options for keeping Medical Records. Also refer to Parts I-III of our Talk with your Doctor blog series.
7. AKUDA: The Art of Elder Abuse Prevention
Stop elder abuse in its tracks by practicing the art of AKUDA. Otherwise, the next victim could be your loved one or you. Offered in partnership with your local law enforcement agency. Includes the bonus AKUDA: The Art of Elder Abuse Prevention.
8. Helping Those Who Don't (think they) Need Help
Interactive session of intervention strategies for family members and the professionals who serve them.
SPECIAL TOPICS
9. Five Leadership Lessons: A Hike in the WILD-erness
Half-day light-hearted workshop for teams who need a little charge to reach their goals. Participants will receive a copy of Brenda's Five Leadership Lesson in the Wilderness article.
10. Getting Grants Guaranteed
Brenda's proposal development tool used successfully in aerospace for multi-million dollar contracts can help cut your time applying for grants while increasing your win ratio. For more information click on TCV Services (Coaching and Consulting).


Additional Information about TCV Speaking Engagements, Seminars, and Workshops
Keynotes and other Speaking Engagements typically range from 45 – 75 minutes.
Seminars and Workshops for Families and Professionals are flexibly offered in 3 – 6 hour sessions. These are also eligible for CMEs and CEUs.
Brenda Avadian, MA will also serve as your Emcee or Moderator. She enjoys these opportunities to feature others while ensuring attendees and participants fulfill their objectives.
Contact us with your Special Requests for keynotes at corporate gatherings, FUNdraisers, Unique Awareness Campaigns, Recognition/Awards events, Grand Openings, Educational Conferences, Retreats, and more.
Audio-Visual (AV) & Travel Specifications
Click to contact us now for your upcoming conference!