Updated July 9, 2014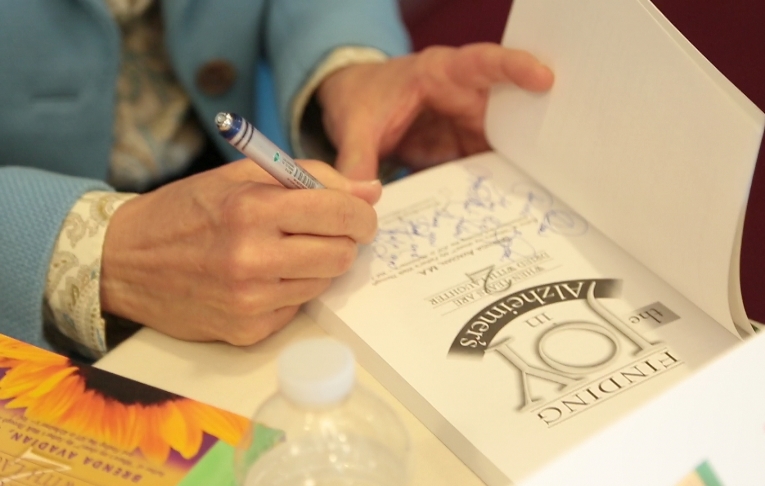 Your caregiving book – how to write and get your work noticed is the second in this three-part series on getting your caregiver story published. At the end of this series, you'll receive an invitation to share your story for consideration in the upcoming Finding the JOY in Caregiving book.
If you haven't already, read the first article – writing and publishing "Where's my shoes?" My Father's Walk through Alzheimer's.
1. RESEARCH the work of your colleagues

As you think about what you will write and how it benefits your target audience, research the work of your colleagues and/or fellow caregivers. Many refer to this as researching the competition. You'll be more successful if you view this as collaboratively filling a niche.
Read books you find on- and off-line. Look for blogs and articles that relate closely to your focus. Use keywords to search for similar content as yours while helping you define how your approach emerges in a unique way.
Begin by looking at ten books that are most similar to what you want to write.
Start with Amazon.com and even Google books then visit your local bookstore. Some literary agents ask their authors to buy then study the top five or ten books in their niche area.
Read what others are writing online.
Follow blogs or receive alerts on what's posted online using your keywords. "Like" or follow Facebook pages, groups on LinkedIn or hashtag followed by your keyword(s) on Twitter for example, #DementiaCaregiver to discover content closest to the topic you want to write about.
Although, you want to get started writing your book now, the world won't read it unless you give them a good reason. To accomplish this, you need to do your research.
Test your ideas–share your experiences online.
Share your thoughts on your own blog or persuade an established site to post your writing. If you choose this second route, you must prove that you write consistently.
TheCaregiversVoice.com posts two new blogs every week with rare exceptions. TheCaregiversVoice.com also features others' articles. If you are a compelling writer who can produce one article a month, The Caregiver's Voice will consider offering you a monthly column along a niche channel. Contact me.
There are other ways you can post content online besides a blog or someone else's website.
You can post on Facebook or LinkedIn. I invite you to LIKE TheCaregiver's Voice on Facebook then post your content.
Refine your ideas with the feedback you receive.
You'll build a strong portfolio of ideas for your book.
Illuminate a caregiver's path with a copy of "Where's my shoes?"

I wrote four communication, career, and leadership books as a speaker and consultant to corporations on communication and leadership development. None were as personal as "Where's my shoes?"

While caring for my father with Alzheimer's in the mid-to-late nineties, there were only a handful of books and educational offerings by and for family caregivers. I was considered the rare family caregiver who was able to both speak and write about my experiences in real time.

The second edition of "Where's my shoes?" My Father's Walk through Alzheimer's  was released six years after the first and it continues to be requested by caregivers and professionals who value comprehensive coverage with compelling and candid details. It will be released in ebook by the end of 2014.
Today, there are thousands willing to speak and write about caregiving experiences.
2. WRITE a compelling overview in 100 words

Once you establish yourself as a writer of informative yet compelling content that fills a unique niche, draft a 100-word paragraph that describes:
your book in a compelling manner,
why you're the best person qualified (education and/or experience) to write it, and
who it will benefit. (Identify a specific niche audience. For example, "Where's my shoes?" appeals to family and professional caregivers for people with Alzheimer's and is used as a case study text.)
First, write your 100-word synopsis then set it aside. Don't look at it! With fresh eyes review it a few days later and revise. Let it sit  a week then revise again. This one paragraph may be the hardest one you write and can take weeks to say everything yet be brief. 
These 100 words may be more important than writing the book! If done well, you may use this hundreds of times in your follow-up marketing.
Share this paragraph with your colleagues, caregivers, publishers. Their responses (even no response) will be of value to you as you further shape your message in the crowded marketplace.
These 100 words will guide you as you refine your message before committing the time and effort to write an entire manuscript. Read Ten Secrets to Pitching Reporters (link at end) for more ideas in shaping your 100 words.

In the third (and final) installment of this three-part series, you'll learn how to BUILD your PLATFORM and draw the interest of a publisher so you GET PUBLISHED.  You'll receive an invitation to submit your story for the forthcoming Finding the JOY in Caregiving book featuring  caregivers' stories and photos that inform, inspire, and bring JOY.
Additional Information for writers found at:
Ten Secrets to Pitching Reporters
Writer's Digest blogs
Writers Workshops