On Fath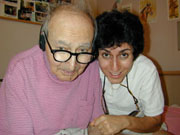 er's Day in 1998, I visited my father in the nursing home to celebrate his special day. Except we couldn't agree on whose special day it really was!
"Oh, I'm glad you're here!" he said with a bright smile.
His eyes told the truth. He no longer remembered his daughter with whom he shared a birthday.
He looked right at me. I could have been the nurse's assistant or an aide. Sometimes I was his son.
"Happy Father's Day!" I said, with as much enthusiasm as I could muster.
"Father's Day?" he asked. "Who's the father?"
"You are!" I said, hoping he would remember.
"I am?" he asked, pointing awkwardly at himself. He paused, and then shaking his head, retorted, "You're the father!"
Brenda Avadian, MA
The Caregiver's Voice
From Finding the JOY in Alzheimer's: Caregivers Share the JOYFUL Times, page 37.