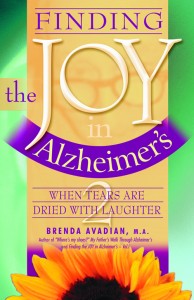 In celebration of the tenth anniversary of the first printing of Finding the JOY in Alzheimer's – When Tears are Dried with Laughter, we publish "What makes caregiving rewarding?" by Phyllis Major.  (TCV Ed.)
As a young child, I would run to my mother to complain that once again I was a victim of some new injustice. She would hug me and wipe away my tears. The pain was gone. She always comforted me with the same advice. "Now don't worry, darling. This is good for your character!" My character? What did that mean?
After fifty years of marriage to a wonderful man and forty-five years of mothering four sons, I thought my character had been improved just about as much as it could be. Wrong. Wrong. Wrong.
Over ten years ago, when my husband, Sam, began to exhibit significant and persistent signs of memory loss, I didn't pay much attention. After all, I told myself, everyone is plagued with "senior moments" as they age. He too made light of his condition as he struggled valiantly to lead a normal life. But the process of his mental impairment was inexorable.
What a teacher he is! As my caregiving responsibilities increased, I came to understand and accept many lessons as blessings in disguise, blessings that were indeed "good for my character." I had experienced them previously, but not under such trying conditions.
Learning to be more patient—I, who was born under the bright star of Impatience, began moving more slowly, in harmony with his s-l-o-w rhythms.
Letting go of my stubborn need to be right. Ultimately, as I discovered, my being right makes absolutely no difference.
Enjoying humor as a great ally, a healing solvent for stress.  Lightness often saves the day.
Learning how to better nourish myself emotionally and physically. When I ignore these basic needs, I am diminished in my caregiving ability.
And, the biggest lesson of all: Refusing to cling to the past. Remembering what was then only brings me anguish now.
Most of all I came to realize that caring for Sam is life itself—that nothing I can read or study—nothing I can talk about—is as important or real as simply being present with him right here, right now.
Each day brings its own blessings in disguise. And each day, in fantasy, I share with my mother what is going on. I imagine her hugging me. This time we embrace as woman to woman. She no longer advises what is "good for my character."
We just smile at each other.
Phyllis Major
Palm Desert, California
"What makes caregiving rewarding?" is one of the stories in Finding the JOY in Alzheimer's – When Tears are Dried with Laughter, p. 24, © 2003, 2010 by Brenda Avadian, MA, Editor, North Star Books.