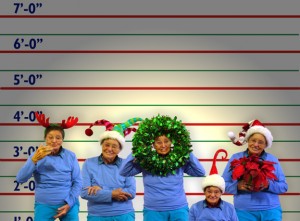 Holidays can be the most joyous or stressful time of year on caregivers who perform the greatest and noblest deeds–caring for loved ones who can no longer care for themselves.
Yet, when life's stresses rise beyond description and you really need a break, follow these tips. You likely have not seen tips like these before!
AVOID HOLIDAY STRESS by following these TIPS:

1. Get rid of ALL your expectations.
Honest. When we expect NOTHING, everything becomes a gift.

When Aunt Beatrice notices all the dust in your home, invite her to help clean with a ready duster.

When Uncle Lou brags about his new snow blower, invite him to show you how well it works on your sidewalk and driveway.

2. F5 Rule: Find Family & Friends to bring FOOD and FUN.
Yes, you're a caregiver, you're exhausted from providing quality care day after day. You have rights. One of these rights is to be allowed to rest during the holidays.
Invite your family and friends and ask them to bring all the foods you and your loved one want to eat–hors d'ouevres, entrees, sides, dessert, and wine.
You will make your friends and family feel all warm and tingly when they realize they are able to help someone in need during the holidays.
3. Get some respite…take a VACATION.
If you have friends or family who are judgmental about how you provide care, be sure to express your appreciation for their advice. Invite them to help you for a couple hours. Ask them to look after your loved one while you run a short errand.
While you wait for them to arrive, place your airplane tickets and luggage in your car where they can't be seen.
When they arrive, give them a care briefing and any tips in case of an emergency, then drive down to the airport, request a TSA massage before boarding your flight to Fiji.
You'll return well-rested from your much-deserved respite and your friend or family member will have gained a much greater first-hand appreciation for your role as a caregiver.
Shhhh, don't tell anyone … we don't want to ruin it for the others!
On behalf of The Caregivers Voice, I wish each and every one of you WONDERFUL FUN-Filled Holidays with Family and Friends as you celebrate…
The Winter Solstice (December 21)
Las Posadas (December 16 – 24)
Christmas (December 25 – traditional or January 7 – Orthodox)
Kwanzaa (December 26 – January 1)
The New Year!
While you're celebrating, take time to honor The Caregivers of The American Dream — our US Soldiers.
Click on the link below to view this 5-minute video, it will touch you like few things will.
A Different Christmas Poem (revised)
Brenda Avadian, MA
Founder, TheCaregiversVoice.com