Caring for a loved one can feel like an uphill climb. At first it may seem doable then reality sets in with a powerful dose of fear, "I stepped up to care for [fill in name]; but can I really do this?"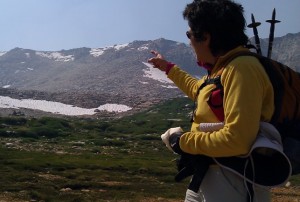 Such was the case for me in early August when four of us decided to climb Mount Langley just south of Mt. Whitney. At 14,023 feet, it provides ideal training for our Mt. Whitney climb next month.
UNCERTAINTY
I was committed to the climb but uncertain. Questions swirled around my mind night and day:
How will my body cope with a strenuous climb at altitude (above 10,000 feet)?
How will I handle the headaches and nausea caused by being at higher altitude?
Am I adequately prepared?
Just like with caregiving I worried about things I was unaware of–things about which I didn't even know to ask!
WHAT I NEED
I needed knowledge. But learning would not be enough to ensure my safe ascent up that caregiving mountain. I needed to prepare–to apply every ounce of what I had learned to this point. Yet all the preparation would not help if I got lost in the mountains or failed to provide the right kind of care. I needed someone willing to take me on the journey–I needed a guide.
KNOWLEDGE
For knowledge, I reviewed my notes from prior climbs plus the notes I took while training for the marathon. I also spent several hours asking my guide detailed questions. With every answer he gave I had two more questions. Once I was satiated (actually, drowning in answers), I began to prepare.
A friend inquired:
How does mountain climbing compare to running a marathon?
I replied:
A bit more scarier while climbing jagged rocks and narrow pathways. Yet, I'm amazed that I no longer feel sore after doing these treks. A half-dozen years ago, I walked 7.6 miles round trip to Devil's Chair. I was paralyzed for a week! I said, "Never again!"
I didn't mention this to my friend, but do believe that helpful guides along the way have enabled me to do a 13-, 15-, or even a 20-miler and feel ready to go again a day or two.
TO PREPARE
To prepare, I tried to exercise more. I confess I didn't prepare enough.
I'm a jack rabbit when it comes to training. I sit here at the computer all day (when not traveling) and decide: Next weekend, I'll hike 15 miles. And next weekend that's what I do. My husband is more of a turtle. He trains on the elliptical for a half-hour starting at 4:30 every morning.
Knowing how sore my neck and shoulders get from carrying a gallon of liquid (water, Gatorade, and protein drink) plus other supplies in my backpack, I lift 5- and 10- pound weights. On Day 1, I lifted weights. I rested on Day 2. I forgot on Day 3. Something came up on Day 4. I lifted weights for 10 minutes on Day 5. Then on Day 6, while hubby finished packing the car, I lifted for 2 minutes.
Unlike my husband who gathers everything he needs last minute, I add to my pack during the week so I don't forget anything. I even plan how many bottles of water to freeze for my pack and to store in the cooler for enjoying after the hike. I also enter all hikers' contact info in my cell phone to make sure I have the info with me–not that it helped this time. There was NO cell service in the mountains.
A GOOD GUIDE
Just as support group members helped me through the highs and lows of caring for my father, my husband's former co-worker was to be my (our) guide.
Steve Caldwell knows the trails. He will not only serve as our guide for this training climb but also up the Mt. Whitney Mountaineer's Route next month. He has climbed Mt. Whitney more than 25 times. I'd like to do it just once.
REACHING THE "TOP"
With knowledge, preparation, and a great guide, I was ready.
Glen Tauke suggested we acclimatize to the altitude by camping at 10,000 elevation the night before. (Although, we'd be better off doing this for two or three days, one night was better than nothing at all.)
My husband and I slept in his SUV overnight in the Cottonwood Lakes parking lot (10,000-foot elevation).
It was 1:00pm, a little over 6 hours later, when we reached New Army Pass (12,300-feet). We rested awhile then questioned if we should finish the hike–another 3 hours to the top of Mt. Langley. With smoke blanketing more of the area from the fires nearby, plus estimating a return to the parking lot around 10:30pm, we abandoned the peak (this time). Resting a while longer, we enjoyed a game of peek-a-boo with a resident marmot.
At about 2:45 we headed back down the mountain.
Choosing the right leader is the key to success and safety. Steve was encouraging, uplifting and kept us on the right track.
Thanks to Steve's guidance, all four of us safely hiked 19 miles round trip in the mountains from 10,000-foot elevation to 12,300 to New Army Pass in 12 hours including two-hours of breaks.
KNOWING MY LIMITS
The more of these hikes I go on, the more humble I get, learning that I'm not in as great of shape as I need to be to really keep up. Even though I'm not sore, I have a neurological issue with my back that tempers how much I will push myself. Injuring myself during an exhilarating challenge is not a price I'm willing to pay.
We must heed this bold-lettered advice while caregiving.
If we push too hard and lose our lives, what purpose will selflessly and undyingly caring for a loved one serve? We must take stock of what we can and cannot do.
We made it to the "top"–this is the highest David and I have climbed to date.
We won't give up. We'll prepare the best we can for the Mt. Whitney climb, knowing that we may have to stop at a point where we can safely descend, unless we feel certain we can complete the hike. A good (make that great) guide will help us decide.
Don't journey to the "top" of your caregiving mountain alone. Be sure to get help from an experienced guide.

Brenda Avadian, MA
Alzheimer's / Dementia Caregiver, Expert Spokesperson, Coach, and Author