It's time to come out of the closet.
The sooner we admit to being a caregiver the sooner we can get help along the caregiving journey.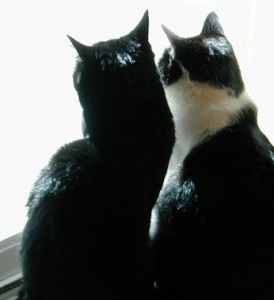 I was in denial for three years while being a long-distance caregiver for my widowed father–certainly not your poster child for self-identifying as a caregiver.
It wasn't until after my husband and I moved my father into from his Wisconsin home of 45 years into our California home that we both realized, "Hey, this is for real!"
The feedback I received as I reached out for help, made me face the fact that I was indeed a "caregiver."
Once I saw myself as a caregiver I was able to get the help I needed. Until then I was flailing wildly with uncertainty while trying to go on as if nothing had changed. But there was a big change in our lives! My father was living with dementia with us and we needed to keep him occupied otherwise he'd wander.
Yes, it's time to come out of the caregiving closet and admit you're a caregiver.
What were our options?
We learned about several to start with, including in-home care, adult day care, and support group. We wouldn't have learned any of this if we didn't accept that we are caring for someone.
The sooner you admit you're a caregiver the sooner you too will start on the path of thriving and even finding the JOY in caregiving.
You're not alone.
Brenda Avadian, MA
Alzheimer's / Dementia Caregiver, Expert Spokesperson, Coach, and Author