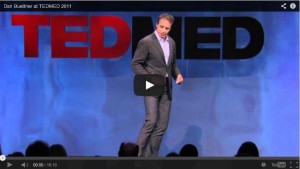 Dan Buettner, author of The Blue Zones–Lessons for Living Longer from the People Who've Lived the Longest spoke at last year's TEDMed conference.
The lessons Buettner learned from Blue Zone cities are applicable to most of us–especially, caregivers whose attention is often directed to the care recipient while neglecting self-care.
Buettner's talk HIGHLIGHTS
We need to adopt universal lifestyle behaviors that promote longevity. Buettner researches five cities around the world whose residents live long lives. One of these is Loma Linda, California where Seventh-Adventists practice healthy living and eating.
Lifestyle behaviors are hard to adopt in the U.S., because we start then 90+% of us stop exercise and diet programs.
We spend 88% of our dollars on trying to cure a disease or illness and only 4% on prevention, according to the CDC. It should be the reverse.
We eat out 110 times a year. We need better marketing of healthy "Crispy and Fresh" choices.
Success is based not on the individual but on a system of living in our communities. Most of us spend 80% of our lives within 20-mile radius of our homes and work. We can influence policy in our own communities. Several examples include restricting smoking areas and junk food availability, while creating safer and more easily accessible town centers and parks.
If Buettner's presentation inspires just one change to add more healthy years to your life, this 16-minute video will be worth your attention.
If the embedded video does not play in your browser (click in box), use this direct link.
Dan Buettner speaks at TEDMed about Blue Zones and longevity
Related article on a care recipient's longevity:
Read Claire Abel on Finding the JOY in Caregiving. She's still caring for her mom who is 102.
Brenda Avadian, MA
Editor, TheCaregiversVoice.com