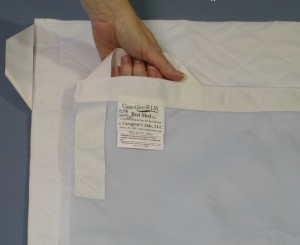 Karen Shiffert created the Bed Sled™ to help make her job easier as primary caregiver for her 84-year old husband of 30-plus years. Don has been living with Parkinson's disease since 1998.
Caregivers Aide Care-Give-R-Lift is Shiffert's product line of repositioning devices, which includes the Skid Seat™ (Patent Pending) and the Bed Sled™ (reviewed here).
The Caregiver's Voice invited the Antelope Valley Care Center, which specializes in short-term care for rehabilitation and long-term Skilled Nursing Care, to review the Bed Sled™. (TCV Ed.)

We found the Bed Sled™ easy to use on all types of residents.
It is a great way to reposition contracted patients. The Bed Sled™ made it easier to slide patients up in the bed, especially our larger patients who are difficult to reposition higher in the bed.
It makes transferring a patient from the bed to the shower then back to bed much easier.
Used as a sling, CNAs can turn patients on their side by themselves.
The Bed Sled™ is large enough to hold enough of a person's torso and legs that no one should fall out of it.
For larger patients, the sling would need to be a bit larger.
We like the Bed Sled™ and feel it will help us use our time wisely to reposition some of our patients. Plus, it makes transfers easier and safer for both our patients and ourselves.
Guest Reviewers of the Bed Sled™  for The Caregiver's Voice
Norma Morris, CNA
Delia Marquez, CNA
Karissa, Ferrill, CNA
Antelope Valley Care Center, Lancaster California
For more information, (click on) Karen Shiffert's 4-minute video on How to Move a Patient when a Transfer goes Wrong  (will open in a separate window). (TCV Ed.)