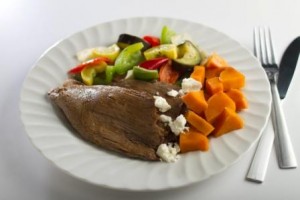 Iowa-based Mom's Meals offer convenient healthy alternatives for home-bound and even busy families.  They serve nutritious breakfasts, lunches, and dinners to families across the U.S.A.–an affordable way to provide meals for loved ones.
Recently, Mom's Meals sent a selection of meals from the Heart Friendly Menu to Sue Anderson, Caregiver and Guest Reviewer for The Caregiver's Voice, to review.
Sue has been a family caregiver since 2003 and serves on the board of a caregiver coalition to help family caregivers connect with needed resources. She survived a heart attack, lives with diabetes, and cares for her husband, Allen, who suffered a stroke.
In a phone interview, Sue, who does not have access to a computer, says, "I love the convenience of them. They were shipped directly to my doorstep. Each container was labeled clearly."
She adds, "The cooking instructions were easy to follow. For example, some of the meals require peeling back the seal or poking holes to vent the steam when heating in the microwave."
"We enjoyed the flavors. I didn't have to add anything to enhance the taste."
"Easy clean up. No dishes. Just heat, eat and then throw away the empty containers."
"The meals arrived fresh (not frozen) with cold packs in a big cardboard box lined with Styrofoam. Mom's Meals offer a lot better quality and taste than our local home-delivered meals program."
Below is a list of most of the breakfasts, lunches, and dinners Sue and her husband Allen reviewed for The Caregiver's Voice (with comments in parenthesis).

Southwestern Potato Skillet w/Potatoes, Eggs, Vegetables, Beans, Salsa and Cheddar Cheese (Sue liked this a lot except for the black beans.)
Country Frittata w/Whole Wheat English Muffin Half
Cinnamon Nut Oatmeal, Sliced Peaches w/Honey Oat Soy Clusters
Banana Walnut Pancakes w/Honey & Turkey Sausage  (Sue didn't care for this healthy alternative.)
Western Omelet w/Ham & Potatoes
Sweet Potato Hash w/Ham
Ranch Skillet of Eggs, Cheese, Potatoes, Sweet Potatoes & Black Beans (Sue liked this but is not a fan of black beans.)
Pork Rosemary w/Brown Rice (Allen's favorite)
Honey-Pineapple Jerk Pork Loin, Black Beans, Vegetables & Roasted Potatoes
Salmon Patty w/Lemon Dill Glaze, Wild Rice Pilaf, Seasoned Peas & Pearl Onions (Sue loved this.)
Grilled Chicken Breast w/Herb Potatoes & Broccoli (Sue's favorite.)
Baked Chicken Breast w/Vegetable Ratatouille
Chicken & Noodles
Orange Chipotle Chicken w/Spanish Rice & Roasted Rosemary Vegetables
3-Bean Vegetarian Chili w/Baby Carrots & Cheddar Cheese (Sue didn't care for this. Although good, it was a bit too healthy-tasting for her.)
Vegetarian Lasagna w/Zucchini Red Pepper Salad
Tomato Basil Pizza
In addition to being a caregiver, Sue serves as the manager of the Churn Creek Mobile Home park in Redding, California. She told others about Mom's Meals including her 86-year old mother who lives alone and was impressed. Sue says, "This would be a great service for many of the elder residents at the Park in their eighties and nineties."
From the Mom's Meals website:

MOM'S MEALS

We will prepare, package, and ship fresh, ready to heat and eat meals directly to your doorstep.

Our home delivered meals arrive in a cooler and are packaged using a cutting-edge USDA approved technology and will remain fresh in your refrigerator for two full weeks.

Clients have their choice of up to 50 diabetic-appropriate breakfast, lunch, and dinner options for each delivery. Meals are designed by our team of executive chefs and registered dietitians and are prepared by our kitchen staff in our USDA approved and inspected facility.

All our meals are delivered by FedEx. We can deliver anywhere and drivers do their best to accommodate special delivery instructions, including bringing the cooler in and leaving it by the kitchen table.

Every meal has a USDA nutritional label, a use by date, and simple microwave heating instructions.
Click to browse the menu of choices at Mom's Meals with a link on the page to print a pdf version. For those like Sue who don't have a computer, call Mom's Meals Toll Free at 1-866-204-6111.
Pricing: http://www.momsmeals.com/our-programs/  Meals run $6 + S&H  They have private pay and state-sponsored programs.
Sue says, "At $6 a meal, these are more economical than grocery shopping. For a caregiver to go to the grocery store … you have to leave enough room in your car for a walker … and the hassle of everything … it's easier to have these meals delivered."
Sue Anderson
Caregiver and Guest Reviewer
Special thanks to Maggie McNamara for helping coordinate and for taking the captioned photos for this review.

The Caregiver's Voice Editor, Brenda Avadian, MA, adds: If Mom's Meals were available while my father was alive, I would have them ship meals to him in Wisconsin. This way, I would insure his refrigerator was stocked with a variety of tasty and nutritious meals.