50 Lessons Learned from Bicycling 17,300 Miles
Idaho-based John and Nancy Vogel, long-time school teachers, decided life is to short to spend in a classroom. They quit their jobs and with their two sons, began a three-year adventure of a lifetime.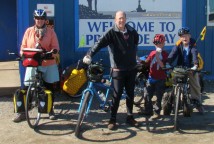 The Vogel family bicycled 17,300 miles from Alaska to Argentina.
They learned a "few" things about living.
Read 50 Lessons I wish I had learned earlier and bookmark link to be inspired as you review these lessons from time to time.
They continue to explore nature's classroom.
Right now, they're trekking 500 miles through the Rocky Mountains.
I just wonder what their sons will do when they grow up. Will they continue exploring nature's bounty or will they say, "Enough, I want a desk job!" Time will tell. For now, read about their current adventure.
Do you envy them?
Do you want to be able to drop everything and travel like they do? Read how the Vogel family are able to finance their trips.
Brenda Avadian, MA
Editor, TheCaregiversVoice.com