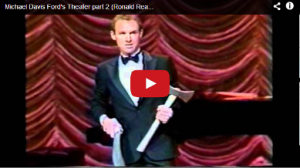 This performance couldn't happen today … nope, not with the stepped-up security since 9/11. And that's what makes this all the more funny. Hold on tight for rib-cracking laughter! (TCV Ed.)
Comedy juggler, Michael Davis, performs at the historic Ford's Theater for the late President Ronald Reagan and First Lady Nancy Reagan.
If the embedded video does not display, click on Michael Davis at Ford's Theater on YouTube.