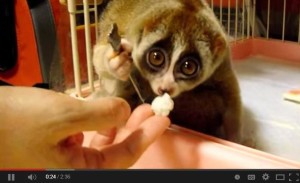 The cute factor of this video tops the charts.
Kinako, a slow loris, was born in Japan. She eats a rice ball.
Kinako doesn't know this, but she's teaching us caregiving humans a few lessons–
Take a small portion and be sure to savor each little bite.
Chew a lot and feel the texture and enjoy the taste.
Even with her metabolism (she's a SLOW loris), she still manages to keep trim.
Be patient when caring for a loved one who eats slowly.
My father chewed each bite over 30 times. He was never overweight. He never had time to overeat.
Slow down.
Imagine staring into the eyes of someone as cute as Kinako. She just makes you want to slow down.
ENJOY!
Loris is the common name for the strepsirrhine primates of the subfamily Lorisinae in family Lorisidae. Loris is one genus in this subfamily and includes the slender lorises, while Nycticebus is the genus for the slow lorises. Lorises are nocturnal. Wikipedia