BUSY Caregiver?
Short on time?
Check out this 2-minute YouTube video on how to do things faster–
tie your shoes,
remove your shirt,
peel a potato
To think how many hours my mother- and father-in-law peeled to make mashed potatoes for our holiday gatherings! I still prefer retaining the vitamins and mashing potatoes with the skins on.
peel an egg
I must remember to try this!
park your car.
Hmmm, I would NOT try parking my car this way; but if YOU DO, let us know how it went!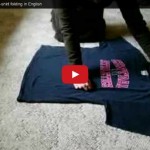 Bonus tip. In less than a minute you can cut hours from your laundry-folding time.
How many hours do you estimate you've spent during your lifetime folding shirts?
I tried this and it works…I just need to practice more.
Japanese way of folding shirts in 39 seconds (in Japanese)
Folding a T-shirt (in English)
Thanks to Sharon Price for sharing FUN and interesting stuff.
Help caregivers and comment below on how you're saving time.
Brenda Avadian, MA
Alzheimer's / Dementia Caregiver, Expert Spokesperson, Coach, and Author