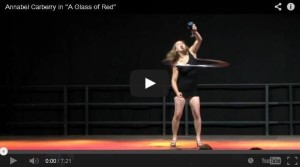 Annabel Carberry will never get Alzheimer's with her ability to manage multiple tasks at one time.
She walks onto the stage in Munich and asks for a drink.
The crowd jeers. Then an audience member hurls a bottle of water at her.
Undeterred, she goes on with the show and wins the crowd over BIG time!
Annabel's multi-tasking skill and coordination is like trying to chew gum, walk, and rub your tummy in a counter clockwise pattern … and more.
Watch this FUN and INSPIRATIONAL 7-minute video.
Find more about Annabel and the Lost in Translation Circus on Facebook
What are YOU doing to exercise YOUR brain and hand-eye coordination?
Thanks to Mitch Gooze and SpeakerNet News for bringing this to our attention.
Brenda Avadian, MA
TheCaregiversVoice.com