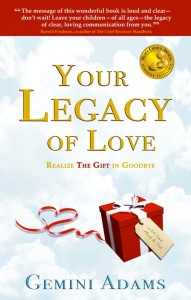 The message of Your Legacy of Love: Realize the Gift in Goodbye became especially relevant to me last week after my nephew was in a freak accident that left him brain dead and on life support.
English author, Gemini Adams, learned the lessons she shares in her book after her mother died when she (Gemini) was only twenty one.
Gemini learns that the needs of the bereaved go beyond those items traditionally included in one's last will and testament (home, money, and belongings). Although these helped to get her and her younger brother on their feet, Gemini struggled to cope for a decade in a world that didn't understand her grief. Not having "Mum," her cheerleader, to share holidays or life's milestones, such as a true love or a new job, created a huge void. While her friends and colleagues thought she should be "over it by now," Gemini needed her mum to place life's challenges and disappointments into perspective. (Gemini's father had since remarried and was not actively involved in their lives…not yet.)
After a decade of suffering, Gemini Adams began researching the needs of the bereaved and discovered a significant majority who lost a loved one would have rather received a legacy of love than what is imparted through a traditional estate plan.
A "legacy of love" as Adams describes it includes the emotional assets and tools our soon-to-depart loved ones leave to help us cope in the world without them.
Its ingredients are as diverse as the people creating them. Many opt for a celebration of life instead of a traditional and typically more somber funeral. Others who have time to plan (e.g., over a lengthy illness) compose letters, audio or video messages for children to view at significant milestones in their lives (birthday, holiday, graduation, marriage, first child). Some choose unique ways to serve as a gentle reminder for their surviving loved ones' lives. One gave a tree sapling as a symbol of renewal and growth with the changing seasons. Others provide a list of their favorite music or places they liked to visit and how/why these were meaningful to them. Depending on their energy and ambition, few even write or record their story in a book or CD, such as The Last Lecture on YouTube.
We spend time more planning a vacation…
Despite the discomfort this topic causes for many in our culture; especially to those of us who are leading fun, healthy, and active lives; thinking about our own legacy of love will illuminate the life we choose to live. Gemini emphasizes, if we start thinking about it now, while we have the time and energy, instead of when we are weakened and stressed during the last weeks of our lives, we may open the gates toward a more purposeful, peaceful, and meaningful life.
The irony of this, Adams adds, is that we spend more time planning a vacation than preparing for the day we are no longer in our loved ones' lives.
Gemini's emphasis on creating a legacy of love by sharing others' examples and including excerpts from her journal makes her point compelling. The only thing missing was her legacy of love. (She has assured me she has one and may include excerpts in a revised edition.)
At the end of Your Legacy of Love are strong resource sections including: Recommended Viewing (videos), Recommended Reading, and Recommended Websites; plus a detailed Index.
Since her mother's passing, Gemini Adams has reconnected with her father.
My nephew–just 20 years old–a fun-loving kid who suffered the consequences of a freak accident, lies in the ICU for the eleventh day. With only his brain stem functioning and machines helping his heart pump blood to his organs, his mom had decided to remove her only child off life support today. (His biological father died years earlier.) Soon she will be left with only memories of her son and begin serving an unforgettable life sentence of loss. My heart also feels for his girlfriend. Her life will be forever changed by losing her love at such a young age.
Despite how sad our family feels right now, my nephew's legacy will soon be apparent through our shared memories and by the lives saved or extended from his donated body parts.
The latter, in my opinion, is a far greater legacy of love than money can buy.
Brenda Avadian, MA (Reviewed September 23, 2010)
http://www.TheCaregiversVoice.com